SHIMMERING EMERALD GREENS OF SPRING AND GOLDEN COLORS OF AUTUMN
Lying 350km northwest of Hanoi is the popular mountain resort of Sapa in Lao Cai province. Established as a hill station by the French in 1922, it also became a sanatorium for ailing French officers during the French colonial period. Now it is a magnet for both foreign and domestic visitors to north Vietnam.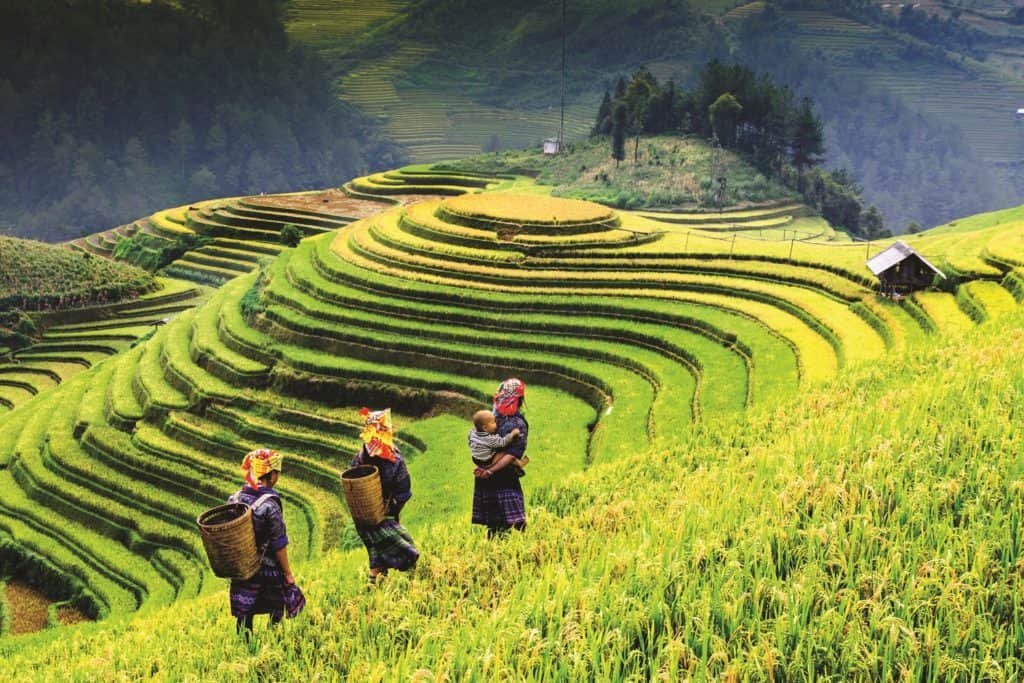 So what is it in particular that draws people to Sapa? Without doubt one of the most spectacular aspects of the area are the rice terraces, ranked in the top seven most beautiful and impressive such terraces in the world. Cascading down the hillsides, and surrounded by towering mountains, the terraces are vast and stretch as far as the Hoang Lien National Park. They have existed for hundreds of years, established by the local ethnic peoples of the Dao, Ha Nhi, Tay, Xa Pho, H'Mong tribes …. who continue to farm them and live in small villages dotted around the area.
The new rice season is during May-June when the farmers plant the rice. This is the rainy season and is probably the time of year to see the terraces at their best. The vibrant emerald green colors of young rice sparkle in the rain complementing the colorful wild flowers. Late autumn, when the farmers harvest the rice crop, also creates beautiful images when the rice fields have been transformed into golden steps. To appreciate the beauty of the terraces one can take a variety of trekking tours around the area.
Sapa is a location of breathtaking natural beauty, its rice terraces stretching as far as the eye can see in a patchwork of colors which change throughout the seasons.