STREET FOOD DELIGHTS TO TEMPT THE TASTEBUDS AND STIMULATE THE SENSES
Many elements make Vietnamese cuisine delicious and healthy including influences from France, China and other Asian countries which have resulted in a unique food philosophy. In addition, the style and manner of cooking reflects diversity across three main areas of Vietnam. Compared with the north and south, central regions incorporate more spices and bolder elements clearly evident in Hoi An and Quang Nam province cuisine. The melting pot of cultures has not only made Hoi An historically colorful but it has also influenced the town's cuisine through vibrant colors and divine flavors.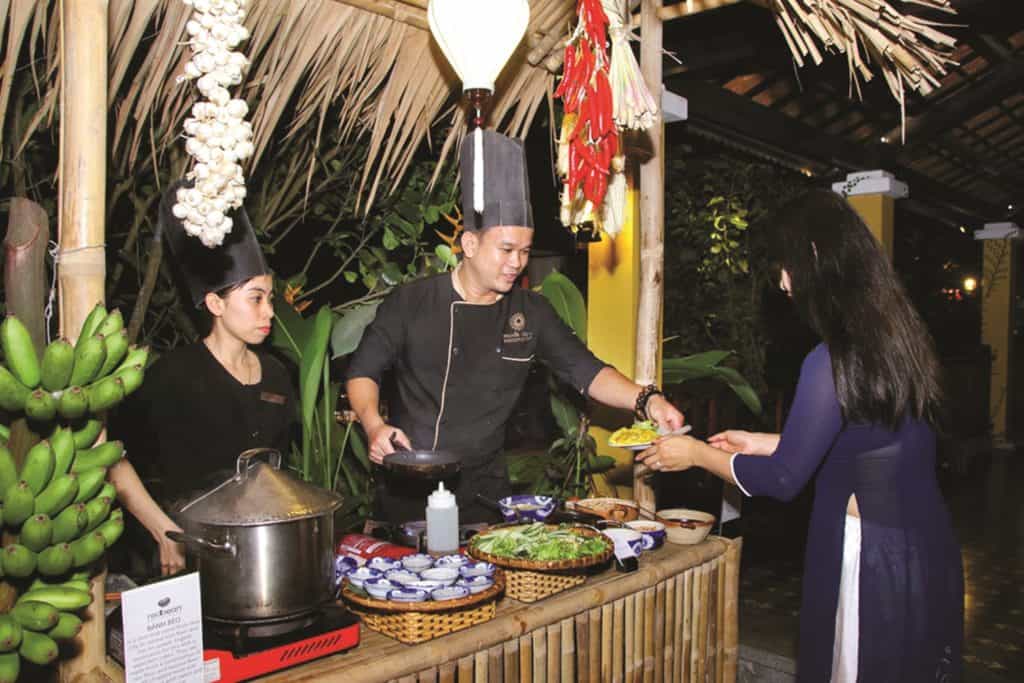 Red Bean Hoi An's rustic street food buffet pays homage to around 40 much loved and less well known dishes iconic to the region as well as a number of favorites from around Vietnam. Displayed in bamboo woven baskets lined with banana leaves in a rustically designed environment, each dish is freshly cooked and traditionally presented in a provincial way with a harmony of colors, textures, aromas and flavors.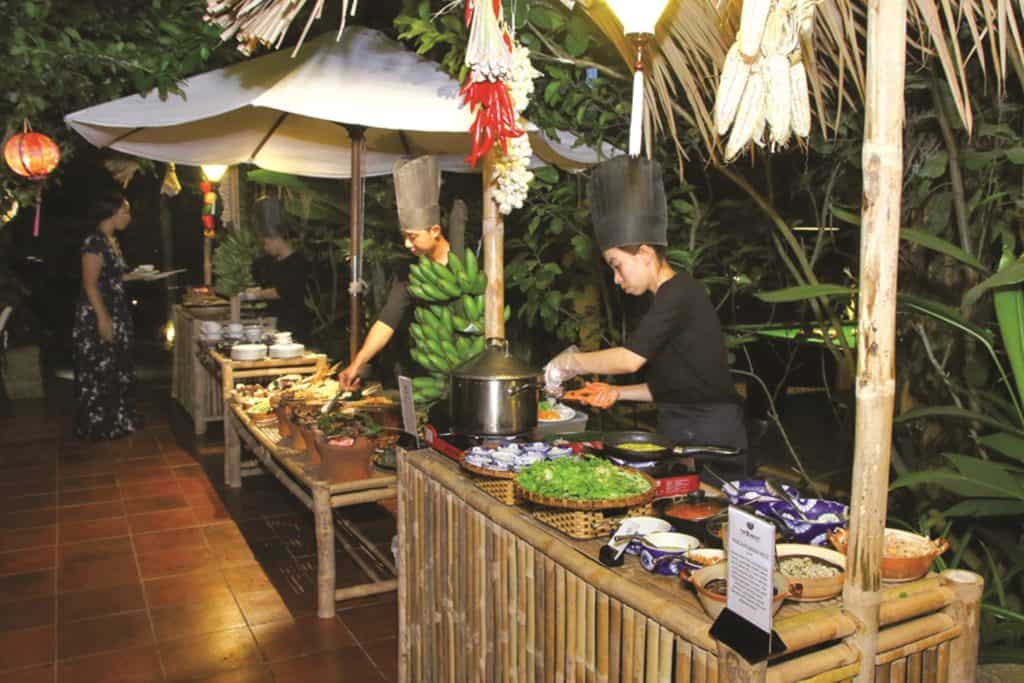 Starters feature fresh salads with ingredients from Tra Que vegetable village, seafood and Hoi An spring rolls. The steamed section includes three central Vietnam favorite types of bánh made from rice flour and tapioca – bánh ướt, bánh bột lọc and bánh bèo. Succulent meat dishes including grilled pork with lemongrass (nem lụi) and a number of leaf-wrapped dishes such as beef in lot leaf, chicken with lime leaf and fish in banana leaf feature. With the produce locally sourced they are packed with amazing contrasting flavors. A Hoi An buffet would not be complete without cao lầu – the town's iconic noodle dish which cannot be authentically replicated outside the area. This dish, as well as sizzling bánh xèo savory pancake and Hanoi's quintessential bún chả are specially prepared by our Chef at his dedicated station.
Dessert options feature a number of local Hoi An sweet cakes which are soft, sweet and chewy.
The result is a balanced traditional buffet telling the story of Hoi An cuisine and society through food.
The evening is accompanied by the mellow sounds of our resident guitarist.
When: every Tuesday and Saturday evenings 18:00-21:00
Where: Red Bean Hoi An restaurant, La Siesta Resort