FROM ANCIENT HOUSES, INCREDIBLE CUISINE, BEAUTIFUL SILKS AND CENTURIES-OLD CULTURE
A very warm welcome to our resort and to Hoi An, which has so much to offer the visitor.
Realizing your time may be limited we felt it might be helpful to suggest some things to see and do, to make the most of your visit.
Stroll around the pedestrianized streets of the Old Town admiring some of the 800 beautifully preserved historical buildings, built by rich Chinese merchants centuries ago. Some are still private houses whilst others are shops, all crafted from beautifully carved wood with picturesque balconies or terraces, many can be visited internally.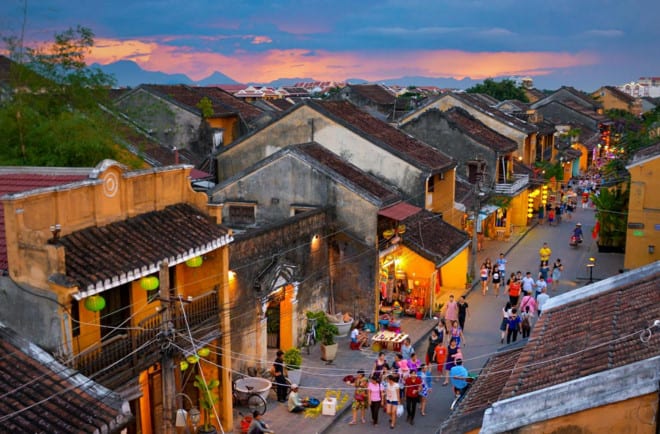 The Japanese Covered Bridge, built to connect the Chinese and Japanese communities across a stream, is the iconic symbol of Hoi An. Constructed of carved wood and guarded at one end by a pair of monkeys and at the other end by a pair of dogs it is a wonderful sight, especially after dark when lit end to end with numerous colored lanterns.
These lanterns are a symbol of the town, decorating buildings and along the Thu Bon River, spectacular at night when lit. Lessons in lantern making are available.
There is a plethora of restaurants in the town, ranging from high end to delicious street food. Hoi An is famous for its cuisine, influenced by the diverse cultures of the nationalities who settled here, notably Chinese, Japanese, French and Indian. Numerous cooking classes are available, including here at our Resort where a world class chef will guide you through cooking a Vietnamese meal including visiting a local market to purchase ingredients.
Hoi An is the tailoring capital of Vietnam where made-to-measure outfits are created in a remarkably short time, at a fraction of the price one pays at home.
Bicycles can be hired from us to explore the surrounding countryside. An Bang Beach is 3km away, a visit there makes a relaxing interlude from sight-seeing. Further away, take a day trip to the town of Da Nang or to My Son to see the remains of the Cham dynasty temples hidden in a lush jungle valley.