Vu Thi Chinh, Receptionist – E Central Hotel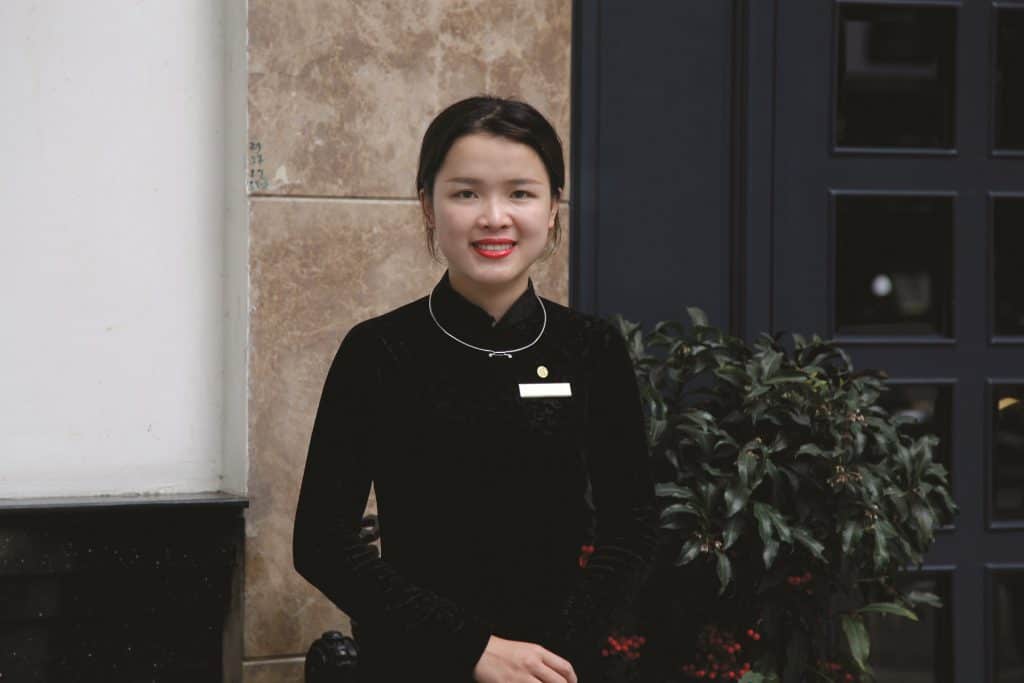 Every year 10,000 people move from the countryside to Hanoi. Unskilled labor and students make up a significant proportion. Like so many young people, Chinh moved from her village to Hanoi to study at University.  After graduating from the English Department of Hanoi University of Industry in 2016 she stayed in Hanoi looking for a job to support her family at home.  Chinh had no particular career plans but, as she majored in English, she searched for jobs in Hanoi's old quarter – an area packed with foreign visitors. "I went from restaurant to restaurant looking for work when I came across E Central hotel. I thought it was such a beautiful hotel; I decided to enter and tell the management I was looking for a job" she said.
Impressed by her initiative, the hotel manager interviewed her on the spot and immediately offered her a receptionist role. Although new to the hotel industry with little work experience, her resolute approach, combined with support from her colleagues, meant she soon got to grips with the job.
"I love interacting with foreign visitors, which also helps me improve my English and expand my knowledge", Chinh explained.   Her hard work and determination made her a familiar face front of house only a few months after joining the hotel. Guests love her enthusiasm and friendly personality and really appreciate her support.  Chinh loves working at EHG and hopes to progress up the ranks. In the meantime, she is planning her wedding excited about what the future holds.
From Banking to F&B
Le Huu Phuc, Restaurant Manager – The Gourmet Corner Restaurant
When Le Huu Phuc was a student, working in hospitality never crossed his mind.  He graduated from the Banking Institute and is still unsure what led him down the travel and tourism route and to EHG's La Siesta Diamond Hotel.
Since 2010, he has been an instrumental player in EHG's F&B department setting high standards of quality, service and food safety controls.   He was promoted to restaurant manager of La Siesta Diamond's Gourmet Corner restaurant, which, under his guidance, is now one of Hanoi's leading casual fine dining establishments.
Creativity is at the heart of his operation. Focusing on the five senses and combining flavors, aromas and artful presentations ensures every dining experience has the WOW factor.  Great food alone of course is not sufficient. A restaurant should focus equally on all areas, including service style. At EHG, fine and casual dining are inspiringly combined.  Diners experience professional service execution at its best with EHG's 'at home' feel creating a personal down to earth touch. Staff are attentive, knowledgeable and friendly, able to make each diner feel special, like a family member.
Another of Phuc's achievements is setting new high standards in Hanoi's restaurant scene centered on excellent performance. For eight consecutive years, all EHG's Hanoi restaurants consistently feature in the top 10 best restaurants out of 1,700. This is thanks to the non-stop effort of the genuinely focused and dedicated restaurant and kitchen teams.  EHG invests heavily in human resources and staff welfare, including promoting the outstanding F&B employee of the year to an alternative department to experience and bring something new.
Annually a minimum of 37,000 diners enjoy sublime food and service at the Gourmet Corner and Phuc's original plan of working in banking is now a distant memory.