Gourmet corner
The Gourmet Corner opened in 2010 on the 12th floor of La Siesta Diamond Hotel & Spa. At the time, Hanoi lacked small intimate restaurants offering a quality casual fine dining service. The name Gourmet Corner represents its location and F&B offering. Gourmet symbolizes a place where food and drink connoisseurs can gather and enjoy great cuisine, while 'Corner' conjures up a small cozy restaurant environment, with a crossroad of views over the Red River and Hoan Kiem Lake.  Right from the start, the restaurant aspired to set a new trend in Hanoi's restaurant scene. Chefs create truly authentic Vietnamese food using the freshest and finest quality of ingredients.  As part of EHG, a trendsetter in Hanoi's hospitality industry, Gourmet Corner operates with the same work ethic, high standards and aspirations. So much so that the service and kitchen teams are some of the best in Hanoi, clearly shown through continual hospitality recognitions. For three consecutive years, The Gourmet Corner was ranked No1 on TripAdvisor (2011 to 2013), while eight years in a row  it has consistently featured in Hanoi's top 10 best restaurants ever since its 2010 debut.
Diamond Sky Bar
The 12th floor has taken on a new identity through some inspired design. A spiral staircase leads from the Gourmet Corner to the first of three overlapping levels of stylish skylight bar space. The three terraces are at angles crafted from glass, metal and wood complemented by a monochromatic color palette of black, granite grey and hints of cream. The first contains the bar, spacious open kitchen and seating areas. More chill out seating is on the second level while the top section is an exclusive space reserved for special occasions.
Welcome to the Diamond Sky Bar with sublime 360-degree panoramic views of Hanoi. Witness evocative Hoan Kiem Lake in its entirety and take in five bridges spanning the mighty Red River – Nhat Tan (the newest bridge), Long Bien (the most iconic), Chuong Duong, Vinh Tuy and a glimpse of Thanh Tri.  On a clear day, the Ba Vi Mountain range ('Lord of Mountains') 70km west of Hanoi is clearly visible.  In front of the Red River, spy sections of Hanoi's 3.85km-long mosaic ceramic wall peeking in between the buildings. This wall is listed in the Guinness World Records as the longest pottery road in the world.  It commemorates Hanoi's 1,000th anniversary in 2010.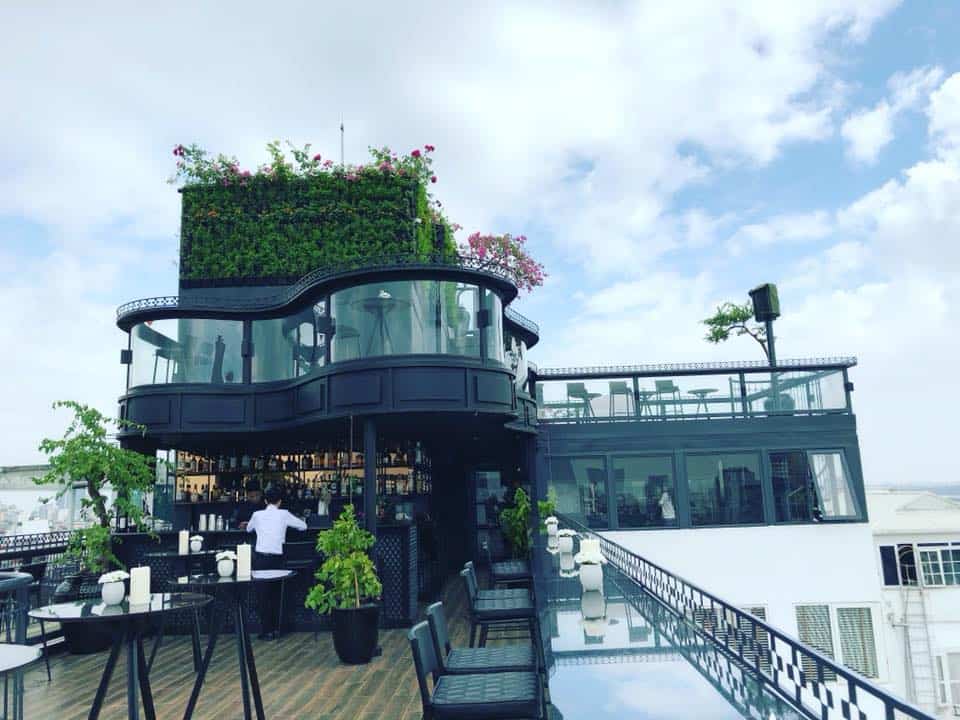 The bar will be one of the coolest places in Hanoi for watching at least three New Years' Eve fireworks displays (across Hoan Kiem Lake, from Gia Lam and Thong Nhat Park). A personal touch features in the second level design. It resembles the profile of a grand piano, which in part, pays tribute to EHG Chairman's daughter. The meaning of her name embodies connotations of the word piano. This sparked the idea for its shape. In addition, a grand piano represents the concept of elegance and luxury to which EHG aspires.