In the heart of La Siesta Resort & Spa between the west and east wings lies a circular glass structure, giving almost 360 degree views of the property. A little like a summer house from the outside, this sanctuary is La Siesta Spa's welcoming reception. Welcome to the Spa Lounge.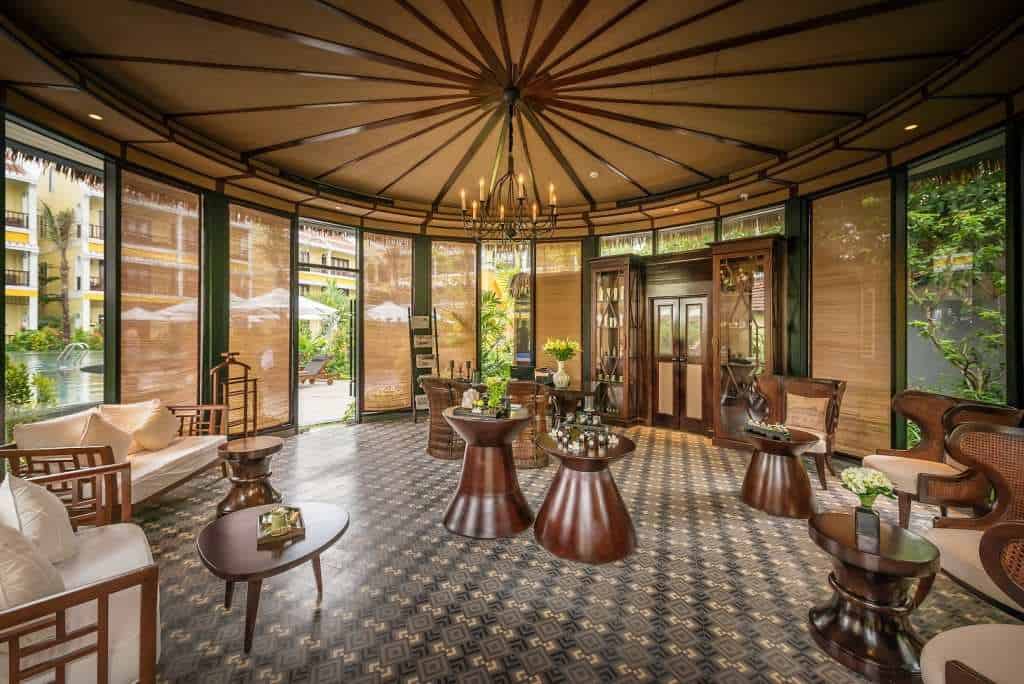 The setting and environment make an interesting combination of opposites. Bordering the property with mottled yellow ochre walls covered in moss is the old communal house which is a place of worship. And right next door the floor to ceiling glass walls of the Spa Lounge create a more modern impression, softened by strips of light-beige bamboo blinds providing shade from the sun. My eye is drawn to the circular roof layered in strands of faux coconut leaves, a similar colour to the blinds. This adds a touch of the tropics, rather like one would expect to see on a deserted island, blending naturally with the exotic gardens that surround.
I step inside, arriving a little early for my spa treatment, moving from the heat and bright sunlight into the cool soft interior. Immediately I am enveloped by the wonderfully subtle and soft aroma of essential oils and soothing music. Any tension I had soon disappears. A lot of thought has clearly been put into creating this lounge – from its precise location and design to the purpose and atmosphere. Incorporated into its standalone identity are influences linking it to the resort. The relaxed and inviting interior features comfy dark brown colonial-style furniture and geometric floor tiles in dusty blue and cream – similar in style to the main east wing suites. My eye wanders to the outside, through the windows, taking in the view of the whole area and the sunlight shimmering on the east wing saltwater pool.

I am given the spa menu and a spa client information form to note down any aches or pains, my preferred massage pressure, areas for the therapist to focus on and, a wonderful touch, to select the massage oil for my treatment. The receptionist explained La Siesta Spa offers a choice of four essential oils and two base oils. These are also available for purchase from the Spa Lounge. While I picked up each container to smell, the receptionist gave some information on each of them. Fokenia, also known as Siam wood, has a sweet woody aroma, with calming and aromatic qualities. Citriodora is a lemon-scented eucalyptus oil which helps combat many ailments such as asthma, colds, migrains and so forth. Cajeput appears to be great for treating a huge range of conditions from toothache and relieving cramps to improving blood circulation and as a general skin tonic. It has a strong, sweetish medicinal aroma. The fourth essential oil is Holy Basil which comes from the Holy Basil leaf. Considered sacred among Hindus, it is powerful, aromatic and widely considered as a purifier for the mind, body, and spirit.
The final two oils are base oils meaning they are carrier oils used to dilute stronger concentrated ones. At La Siesta Spa they use Tamanu and Olive oil. Tamanu is a natural nut oil with healing and anti-inflammatory qualities and a deep rich scent. While finally olive oil, commonly associated with cooking, has long been used as a skincare product and is particularly good for soothing rheumatic conditions. I chose Fokenia based on its calming aroma.
In the meantime, I had been brought a cold towel and a healthy cooling tea. In the hot summer months the spa lounge serves a lemongrass tea. The citrus flavor is refreshing and cool. Lemongrass provides a number of benefits including an antioxident, good for treating digestive conditions, combating high blood pressure and providing flu relief. In the cooler season (although the Hoi An temperatures don't drop very radically) a different tea is served, filled with all the goodness of ginger, lemon and cinnamon. Bursting with nutrients it helps to boost energy and is a perfect tonic for overall wellness.
Form filled in, tea drunk, massage oil chosen and feeling totally relaxed I am greeted by my therapist. From the menu of over 30 treatments and packages, I had opted for the 90' Cloud Nine combination of hot stones and a foot massage.
And so I am whisked away from one relaxing haven to another. Through the gardens and across little walkways spanning channels of water I reach the spa villas ready for my pampering session.