Many Hanoians say that Hanoi cuisine is the best in Vietnam and in addition, the city boasts many first when it comes to food.
One of the first dishes that comes to mind when thinking of Vietnam is of course Pho (noodle soup) -arguably the country's most famous dish. Traditionally eaten for breakfast it is now an 'any time' meal and its popularity is decades old.  The soup originated in the early 20th century in North Vietnam.  Invented in Nam Dinh province southwest of Hanoi, it was brought to the capital in 1925 and has been the favorite dish ever since. Pho actually refers to the flat white rice flour noodles rather than the name of the soup, of which there are many varieties throughout the country. Many say that Pho Bac (northern Pho) is the true and best Pho.  Pho comes in two varieties chicken or beef with rice noodles, spices, spring onions and herbs submerged in a piping hot clear fragrant broth.  The latter is often a closely guarded family secret handed down from generation to generation.
Quintessential Bun Cha is said to have originated in Hanoi, the first bun cha stall was on Gia Ngu Street linking Dinh Liet and Hang Be Streets in the old quarter.  It forever remains one of the city's favorite dishes traditionally eaten for breakfast and lunch.  It consists of succulent grilled pork patties submerged in a bowl of dipping sauce with chopped carrots and green papaya, served with white Bun noodles and a basket of salad leaves on the side.
If you like legends then there is a delicious one associated with a type of fresh spring roll unique to Hanoi. Ngu Xa Island on Truc Bach Lake in west Hanoi is the home of Pho Cuon.  The rolls are made from soft cooked rice paper sheets (same consistency as Pho noodles), wrapped around aromatic herbs, fried minced beef and pepper. The dish is commonly served in stacks of 10 cold rolls, with a dipping sauce of fish sauce, garlic, seasoning, sliced carrots, green papaya, rice vinegar, lime juice, sugar, garlic and chili.  Legend says Mrs Chinh on Mac Dinh Street, Ngu Xa invented the dish about 16 years ago when she improvised using Pho noodle soup ingredients to create a new meal after running out of the Pho broth. She made fresh rice rolls from flat rice noodle sheets filling them with Pho ingredients. It proved to be such a popular dish that others copied and Ngu Xa Island, once famous for bronze casting, is now famed for its Pho Cuon restaurants.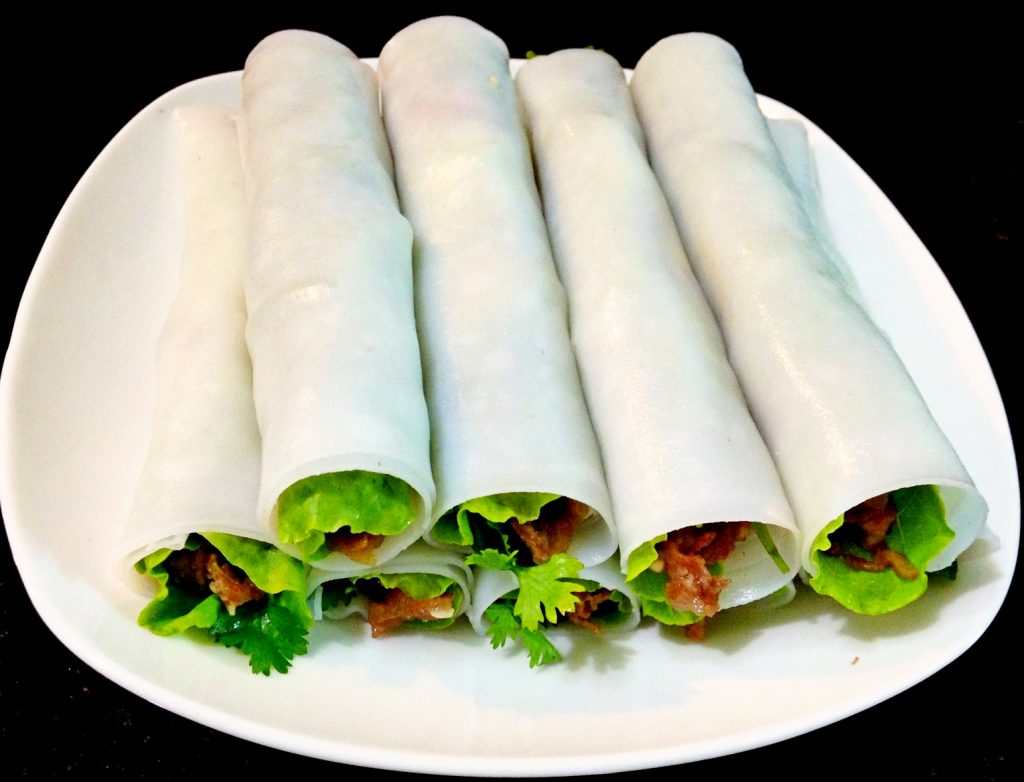 A 100-year old Hanoi-inspired dish is Cha Ca. The main ingredient is Cha Ca (mince grilled fish) usually Ca Lang (Hemibagrus a species of catfish), Anh Vu (Semilabeo fish) or Ca Qua (snakehead fish).  Chunks of fish fillets are marinated in a mixture of galangal water, turmeric, fresh, pepper and shrimp paste then grilled until golden yellow.  The fish is served with Bun (vermicelli) noodles, basil, roasted chopped peanuts, fresh green onions and dill. Cha Ca originated in Hanoi during the French colonial era with the Doan family who lived in Hang Son Street now Cha Ca Street. The family held secret anti-French resistance meetings and began selling a family-invented dish (Cha Ca) to earn more money.  The locals named the dish Cha Ca La Vong after a statue of La Vong (a Chinese poet and revolutionary) the family kept at the front of the house.
Banh xeo is a crispy pancake, which may have arisen in central Vietnam during the Tay Son era, or derived from the Cham culture.  Whatever the origin, it is a regular feature of roadside dining and Hanoi has some of the country's best banh xeo stalls. The dish, named after the sizzling sound it makes on the hot pan, is a rice pancake with turmeric, stuffed with beansprouts, prawns, pork and herbs, self-wrapped in dry rice paper sheets.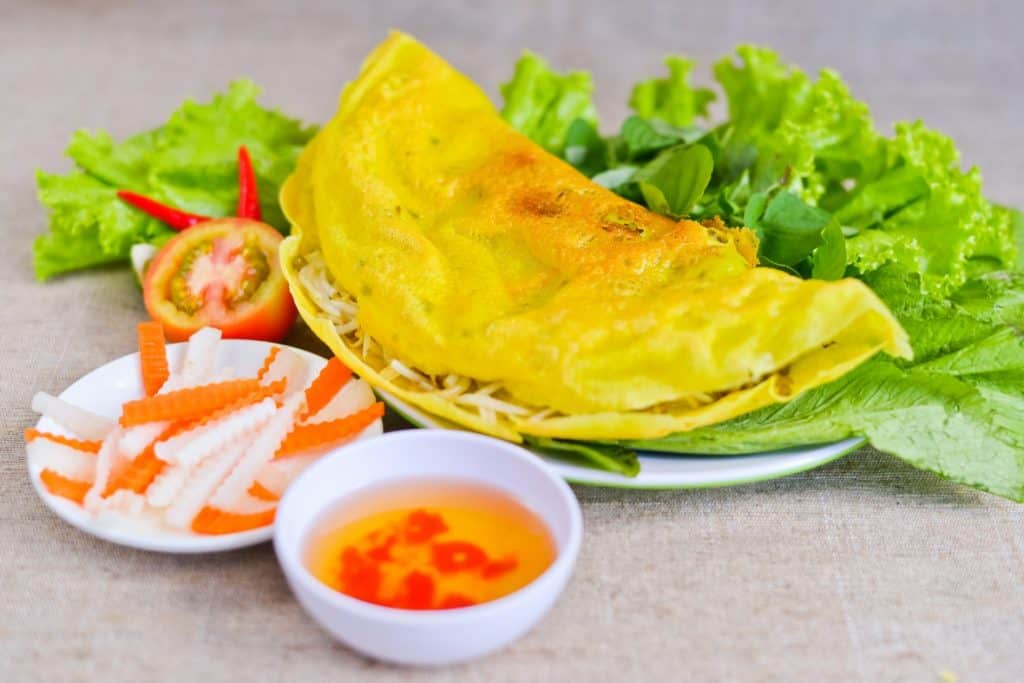 These dishes and many, many more are featured on the menus of EHG's award-winning restaurants – Red Bean, Gourmet Corner and Cha Ca La Vong (the latter named after the aforementioned dish).  With a la carte and inspired set menus, EHG's restaurants are a smart choice for diners who want to experience a culinary journey of Vietnam, and especially of Hanoi.
RED BEAN CLASSIC RESTAURANT
Ground floor, Hanoi La Siesta Hotel & Spa
Add: 94 Ma May Str., Hoan Kiem Dist., Hanoi
Tel: (+84-24) 3926 3641, Ext 8105
RED BEAN TRENDY RESTAURANT
8th floor, Hanoi La Siesta Trendy Hotel & Spa
Add: 12 Nguyen Quang Bich Str., Hoan Kiem Dis., Hanoi
Tel: (+84-24) 3923 4026
RED BEAN CENTRAL RESTAURANT
7th floor, Hanoi La Siesta Central Hotel & Spa
Add: 1 Cau Go Str., Hoan Kiem Dist., Hanoi
Tel: (84-24) 3938 0963, Ext: 705
THE GOURMET CORNER RESTAURANT
12th floor, La Siesta Diamond Hotel & Spa
Add: 32 Lo Su Str., Hoan Kiem Dist., Hanoi
Tel: (+84-24) 3935 1632
CHA CA LANG RESTAURANT
Ground floor, Hanoi E Central Hotel
Add: 18 Lo Su Str., Hoan Kiem Dist., Hanoi
Tel: (+84-24) 3938 0175