Cho Hoa Quang An (Quang An flower market in Tay Ho district) is Hanoi's largest and best known fresh flower wholesale market in north Vietnam. In the past flower sellers from the market garden villages of Nghi Tam, Ngoc Ha, Tu Lien, Quang Ba, Nhat Tan, Phu Thuong and Tay Tuu met spontaneously to sell their flowers at the junction of Au Co and Xuan Dieu streets. However, when Tay Ho district was formed in 1996/98 the flower market became permanently established at its current location near the Red River.
Although open 24 hours a day, it is most active from 22:00 overnight to 07:00; hence one needs to be an early riser to see the flower market at its best. Merchants, small traders and wholesale buyers select the best blooms to sell in their shops during the day. Individual customers also buy flowers for their homes and work places. However, the market has a special significance and presence during the Tet Lunar New Year when it is transformed into a giant flower garden full of energy and vibrant colors. People visit not only to buy flowers but also to enjoy the whole Tet experience and happy colorful atmosphere.
Flowers play a very important role at Tet in ancestor worship when families place them as offerings in pagodas, temples and communal houses and the demand for fresh flowers soars.
Flowers sold at the market (loose or in ready-made arrangements and bouquets) come from Hanoi's outer suburbs and as far away as Da Lat 1,400km away. Almost every type of flower is found here – including cherry blossom, lilies, roses, carnations, orchids, chrysanthemums, tulips, hydrangeas, sunflowers, gerber daisies and so on. Often sellers specialize in one type of flower, making it easier to make a choice. Two particular species sold have a deep and poignant significance at Tet. Peach blossom heralds the arrival of spring while the Kumquat tree signifies reunion – both these elements underpin the meaning of Tet.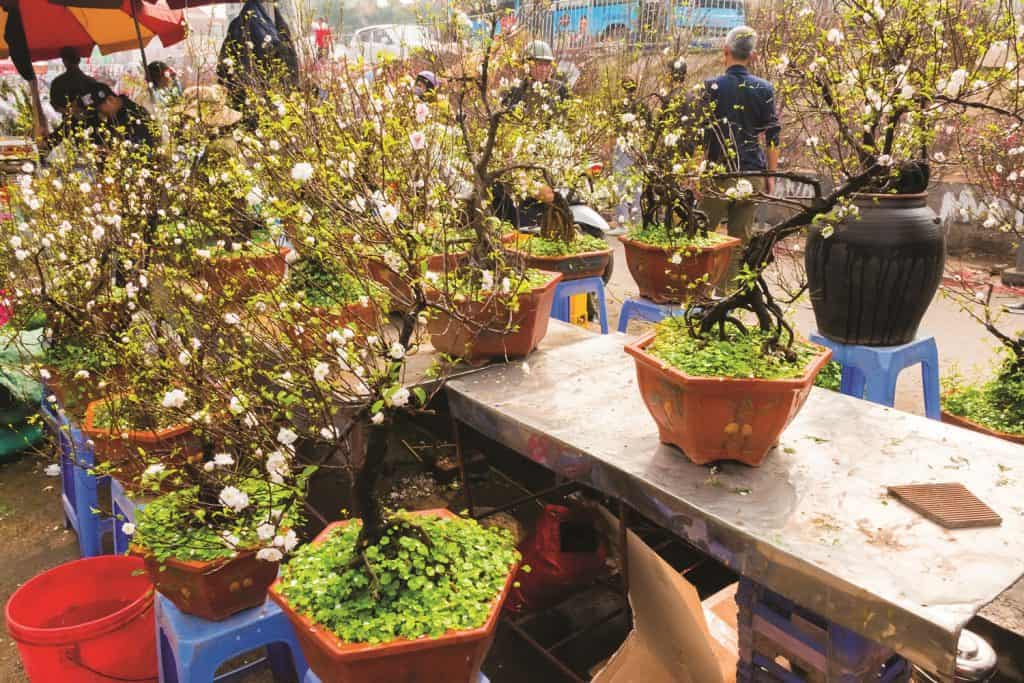 The weather is significantly cooler at this time of year so people wrap up warmly as they wander among the colorful flower displays. Everyone, young and old, loves the atmosphere that pervades this flower market. Motorbike riders dodge in and out of the displays as they drive away with bunches of flowers strapped to the back of their bikes.