A SPECIAL FOOD SERVED TO CELEBRATE THE MID-AUTUMN FESTIVAL OF TET TRUNG THU
In Vietnam the Mid-Autumn Festival (Tet Trung Thu), also known as the Harvest Festival, is celebrated on the 15th day of the 8th lunar month, at the time of a full moon. This is usually during mid to late September or even early October. This is the second most important festival in Vietnam after the Tet lunar new year. This year it falls on 13 September.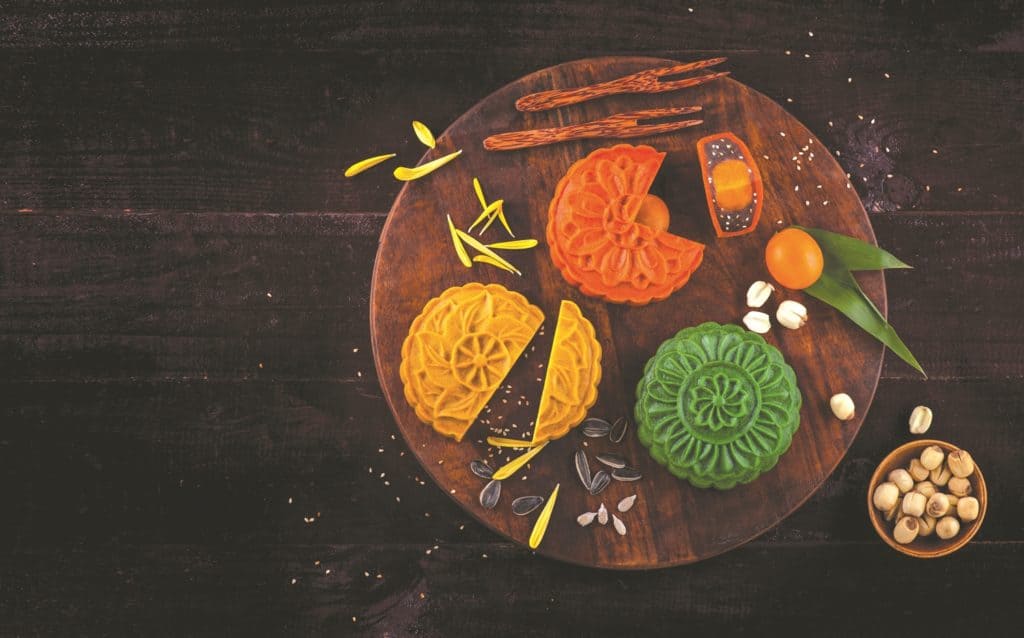 Special foods are popular at this time, especially mooncakes. These come with a multitude of sweet and savory fillings enclosed in a pastry case. The most traditional are mung bean and lotus seed paste mixed with durian or pandan leaf juice; taro paste, red bean, black bean, chocolate, tea powder, minced coconut meat, sesame and young green rice. A salted duck's egg yolk might be added to the middle of the cake.
The cakes are shaped in a special wooden mold, which take a whole day to make. These molds, and hence the outer pastry layer, are often decorated with flowers, a favorite theme for mooncakes although nowadays people like to experiment with different shapes and images.
The roundness of the mooncakes symbolizes completeness and reunion; therefore, when families share these cakes during Tet Trung Thu it signifies getting together with friends and family. Mooncakes are often given as presents and they come boxed up often with elaborate wrappings. A common sight throughout Vietnam are mooncake stalls which spring up along the sides of streets about a month before the festival day.
Continuing with the completeness theme other round shaped foods also served at this time including grapefruit, pomegranates, apples and grapes.
Incidentally, the Mid-Autumn Festival is regarded as the second festival for children and it can be compared to Halloween and Thanksgiving in the west.