Hanoi, 24 December 2019 – Elegance Hospitality Group (EHG), with its Hanoi collection of high end La Siesta boutique hotels and a five star Hoi An resort, will unveil its amazing new sky bar at the end of November.  The Moonlight Sky bar will be unveiled at the end of December, taking pride of place on the rooftop floor of La Siesta Classic Ma May.
Moonlight which means 'by the light of the moon', is the 4th and probably the most innovative of the sky bar quartet.  It is dramatically constructed combining the trademark interior design elements defining the La Siesta bars with one of Hanoi's most iconic symbols – Long Bien Bridge.
Curves and angular lines, materials of glass, metal and wood complement a monochromatic color palette of black, granite grey and hints of cream create an Indochina feeling. The environment is softened by flowering trees and living vibrant green walls of plants.
General Manager, Mr Pham Trung Dung explains that the property, being in the heart of the Old Quarter and with panoramic views, influenced the bar's configuration playing on the concept of being the center of all things. 360-degree views circle Hanoi across Hoan Kiem Lake, the Red River, Gia Lam district and across the Old Quarter rooftops therefore putting one in the middle of everything.  The large octagon-shaped bar counter allows the bar staff to take center stage within a 'Cheers-style' bar atmosphere.
The pièce de résistance, however, links the bar and hotel's classic French colonial style with Long Bien Bridge, clearly seen from the rooftop. The bridge, built by the French (1899-1902) was at the time the first steel structure to span the Red River and was once the largest bridge in French Indochina.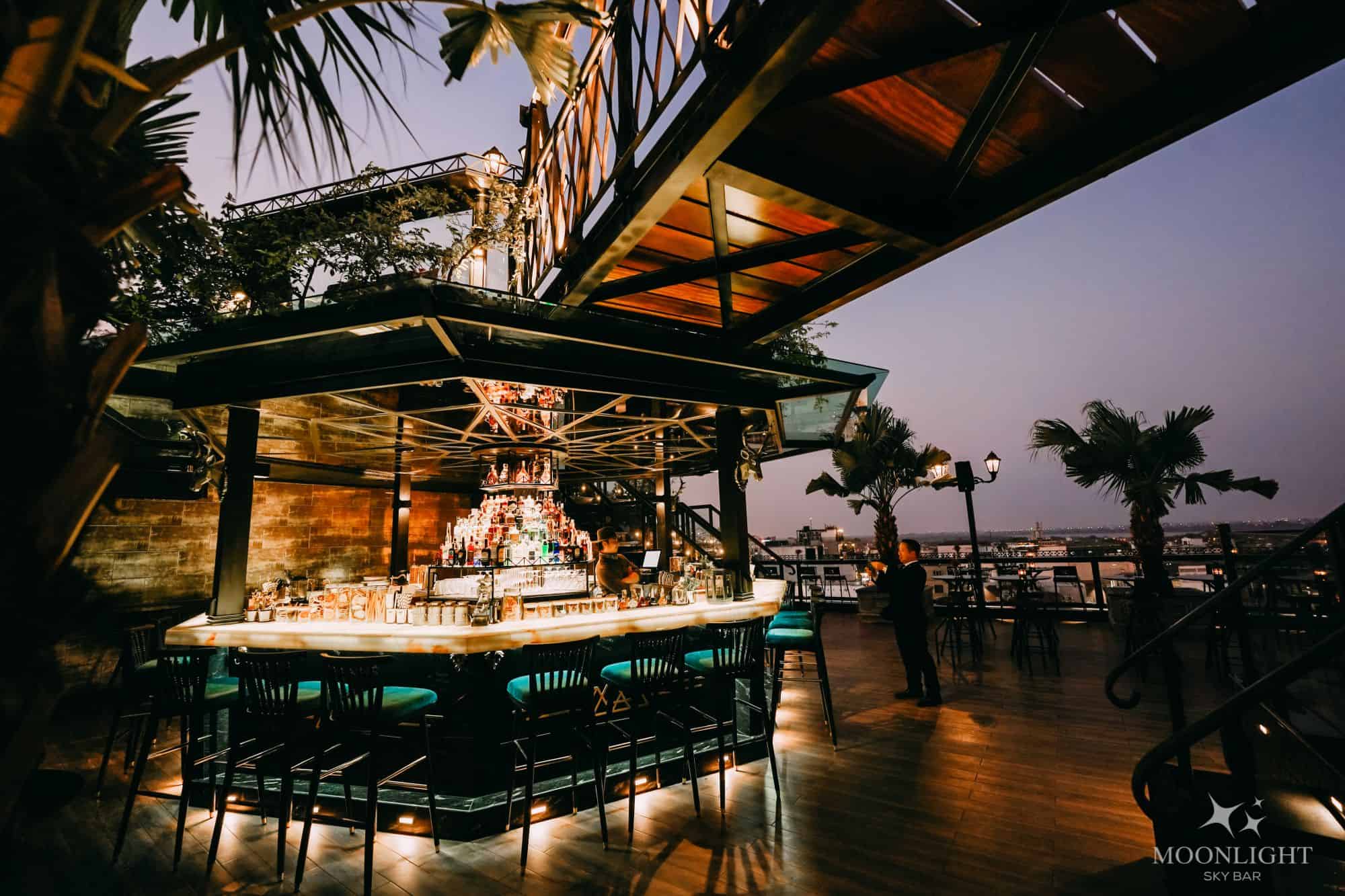 With the inspired design and visionary idea of EHG Chairman Mr Do Van Dan, the Moonlight Sky Bar now brings this bridge to the bar.  As Dan explains "we invite our guests to walk above the actual bar counter across a mini replica of part of the bridge while looking out over the Red River".
It is a daringly outstanding piece of bar design complete with spans, nuts and bolts echoing those of the majestic original.  This stunningly complements a great beverage menu of classic and signature cocktails, fine wines and spirits as well as a food menu featuring the best in authentic Vietnamese cuisine.
EHG properties are known for their refined service, impeccable design, distinctive identities and great experiences. The bar represents yet another milestone for the group which continues to wow its guests with unique ideas.
Additional information
The Moonlight Sky Bar
Rooftop floor, La Siesta Classic Ma May
94 Ma May Street
Click here for more information.