The dream combination
La Siesta Resort Hoi An has teamed up with Vietnam's leading cultural performing company Lune Production. The result is a truly memorable package combining outstanding theater at the Hoi An Lune Center with Red Bean's authentic Vietnamese cuisine at La Siesta Resort.
A dual voucher, which applies to a minimum of two people, is based on any show performed at the Lune Center and lunch/dinner at Red Bean Hoi An Restaurant.
Terms and Conditions
Price 1,300,000 VND per person
1 combination voucher per person, based on a minimum of 2 people
1 performance of the A O show or Palao or Teh Dah per person
Applicable to the Ooh! ticket price at the Lune Center
1 meal (lunch or dinner) per person – set menu or buffet dinner. Beverages are an additional cost
Valid within 7 days of purchase
This offer cannot be used in conjunction with any other promotions from Lune Production, Lune Center or Red Bean Hoi An
Offer is valid until 30 June 2020
Vouchers can be purchased from:
The Hoi An Lune Center, box office, Dong Hiep Park, Nguyen Phuc Chu St., Minh An Ward, Hoi An
La Siesta Resort Hoi An, 132 Hung Vuong, Thanh Ha, Hoi An
Partners of the Hoi An Lune Center
At Red Bean Hoi An in the grounds of La Siesta Resort & Spa dine on authentic Vietnamese dishes from across the country. Choose from two daily lunch/dinner four course set menus: The Vietnamese set or the Taste of Hoi An menu which feature iconic Hoi An favorites and Quang Nam Province dishes. Alternately try the Red Bean street food buffet available on Tuesday evenings. The menu includes around 40 dishes displayed in bamboo woven baskets lined with banana leaves presented in a traditionally rustic design.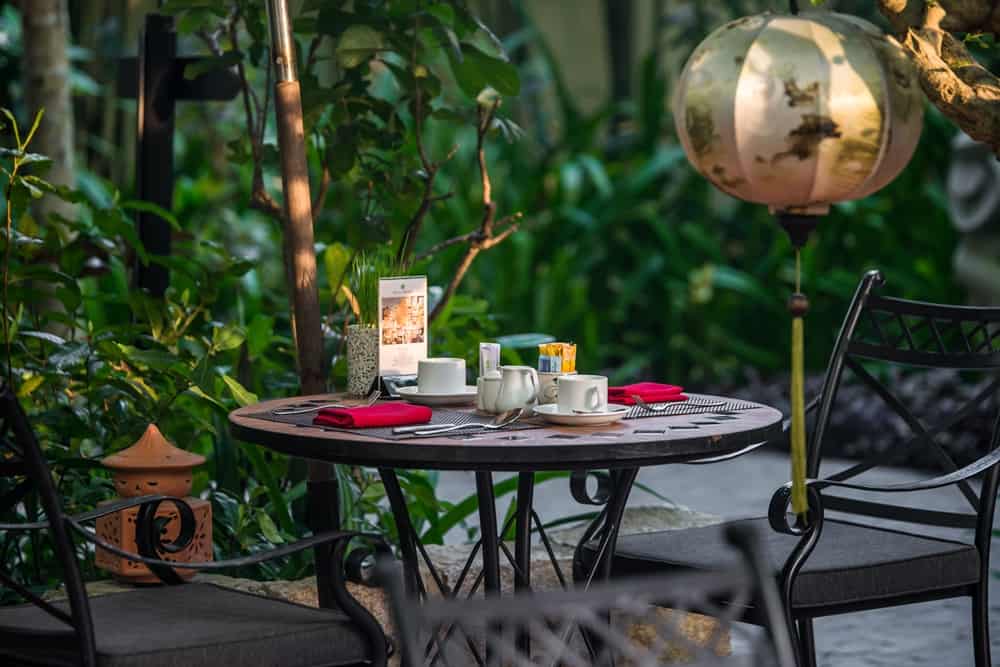 Lune Production, Vietnam's answer to Cirque du Soleil founded in 2012, introduces Vietnamese culture and traditional daily life through live theatre featuring symbolic dance, acrobatics, juggling, martial arts and acting. A 20-strong cast perform to beautiful music showcasing traditional Vietnamese folk melodies and world music.
Adding to its venues at the Saigon and Hanoi Opera Houses and Hanoi's Tuong Theater, Lune Production opened the Hoi An Lune Center for Performing Arts in February 2018 located on Hoi An Island.
Two of the company's four spectacles are currently performed at the Lune Center:
The A O Show
The meaning of A O comes from 'Lang Pho' referring to village and the city. This show first performed in February 2013 in Saigon, illustrates the many opposites and transitions of Vietnam: tradition vs modern, peaceful countryside vs the hectic cities, overpopulation vs privacy. It incorporates humor and real life experiences. The performers use a variety of props including giant woven baskets, ropes and bamboo poles.
Palao
Hoi An has a close connection to the Cham culture and Palao is the Cham word for 'letting go'.  It debuted at the Lune Center in November 2018 and features a soulful dance full of Cham spirit and culture in a contemporary more avant-garde setting. The performers play traditional Cham instruments as well as singing and dancing as they pay tribute to the Cham ethnicity.
Teh Dar
The idea behind "Teh Dar" goes back to the early days of this land, where Viet people were collective ethnic tribes living on different parts of the peninsula. Trial men and women came around the fire, hunted, danced and harvested together, in circles, within which, cultural stories that inspired "Teh Dar" began. The word "Teh Dar" means "going in circle". Here lies the philosophy, the belief that keep Teh Dar artists going: maintaining the symbolic circles of triba cultures, giving them new life on stage, preserving beautiful aspects of tribal traditions from fading under the overwhelming tide of modernization. As the people keep going, the circles remain and so will their cultures.