At Red Bean restaurants, we believe immersion in Vietnamese cuisine through combining a cooking class with a market food tour is a delicious way to learn more about the country, history and culture.
Vietnam has one of the world's most diverse, culturally significant and healthiest of cuisines. A fusion of many principles makes Vietnamese cooking so irresistibly delicious and seductively special.  Vietnamese cuisine combines the five elements of metal, wood, fire, water and earth with a melting pot of cultures inspired by France, China, India and other Asian nations. The result is a unique food philosophy, deceptively simple yet deliciously complex.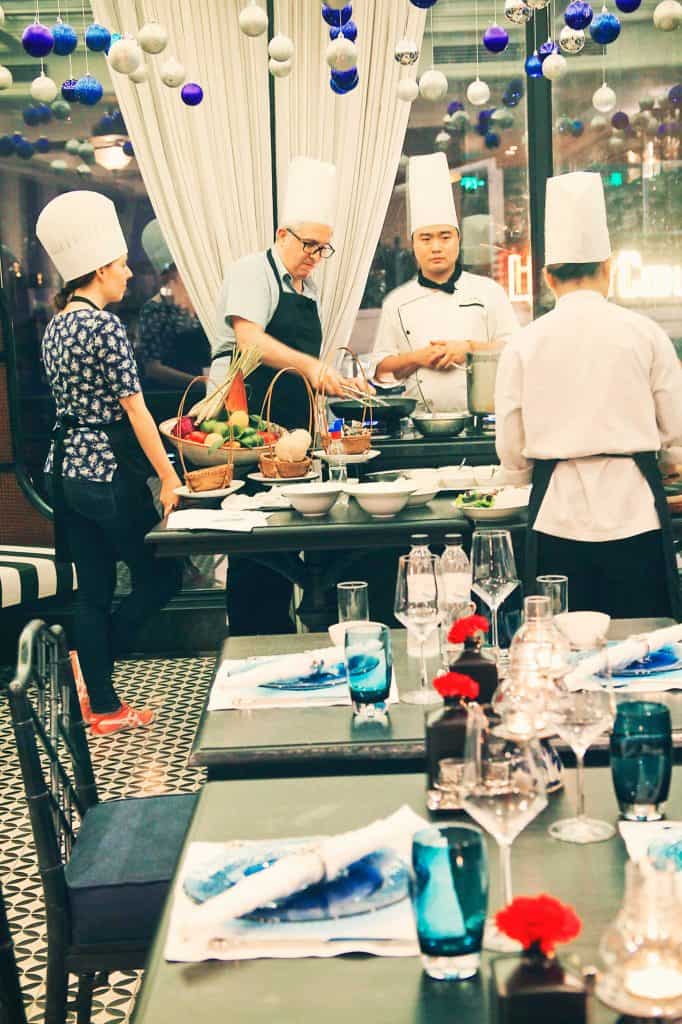 Through a Red Bean cooking class, you will gain experience in creating and cooking authentic Vietnamese dishes in a fun, hands on way.  This is also a chance to listen to an insider's view on the importance of food in Vietnamese society, the significance of different combinations, origins and traditions of the dishes you will create, as well as skills needed for selecting and combining the best ingredients.  You will come away with a newfound appreciation and understanding of Vietnamese cooking.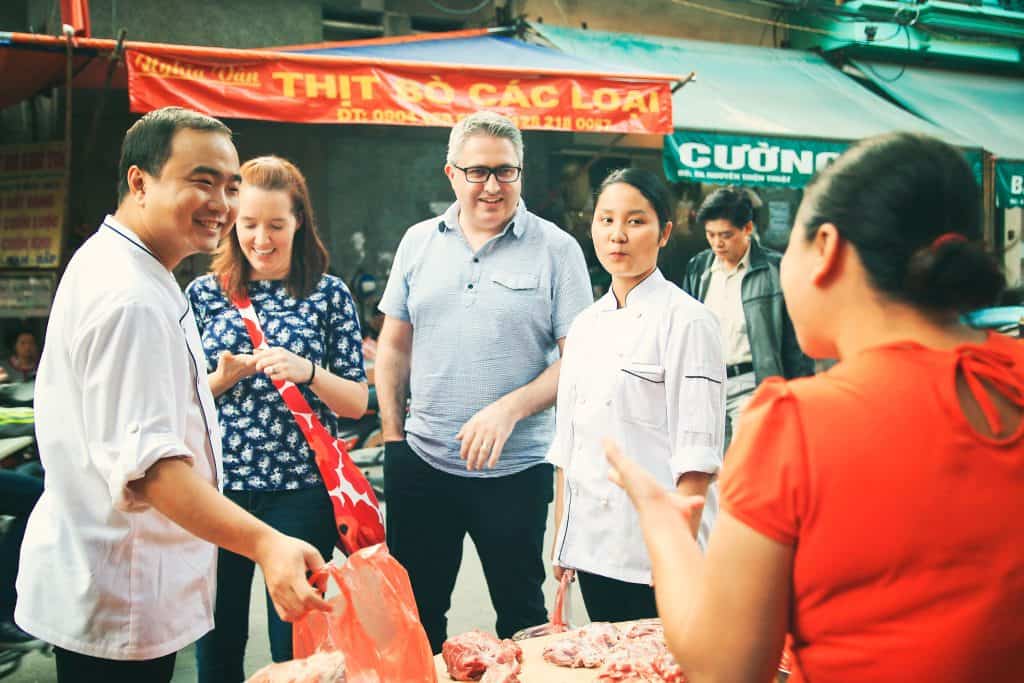 One of Red Bean's chefs, both instructor and food guide, will lead you on a colorful walking tour around one of the neighborhood wet markets to choose the ingredients for the meal you will create. Mingle and chat with the stallholders, take in the sounds and aromas of the market, taste many common or not so common fresh products, while Chef guides you in how to select the best produce and bargain for the best price.  This is also a chance to learn some simple and relevant words of Vietnamese.
The cooking class starts back at Red Bean at your own workstation – your base for the next few hours from where you will create your own Vietnamese meal.
Chef will guide you step-by-step through the intricacies and principles of making each dish. What are the secrets to making some of the best aromatic pho or the skills involved in rolling the perfect spring roll? How can one judge the right combinations of the five elements to create the perfect balance of flavors?  Once your creations are made, Chef will explain how to serve and decorate the dishes, the correct way to eat them and what the accompanying garnishes should be.
Then, sit down in Red Bean restaurant and savor the meal you have created over a glass of wine or local beer.
***
Red Bean cooking classes are individually tailored ensuring you enjoy the most memorable food experience.
At the end of the session, Chef will present you with a set of recipe cards and a small gift
Red Bean cooking classes in Hanoi are held daily:
10:00-14:00 (lunch)
14:30-18:00 (dinner)
The following dishes are spread over a choice of two menu options:
Hanoi spring rolls
Beef or chicken Pho noodle soup
Mango salad
Cha Ca
Bun Cha
Nem Chien
Red Bean Classic (Hanoi La Siesta Hotel & Spa, 94 Ma May Street)
Red Bean Central (Hanoi La Siesta Central Hotel & Spa, 1 Cau Go Street)
Red Bean Trendy (Hanoi La Siesta Trendy Hotel & Spa, 12 Nguyen Quang Bich Street)