You may wonder how combining the moon with one of Hanoi's most striking architectural icons inspired the name and design for La Siesta Classic Ma May's new rooftop bar.  Moonlight, which means 'by the light of the moon', is the 4th and probably most ambitious sky bar of the La Siesta brand.
Symbolic threads are woven together linking Vietnam's culture and traditions, the concept of being in the center with a magnificent feat of engineering in the French colonial period.
We chose the name Moonlight as the moon is an important symbol in Vietnam.  It is linked to harvests and daily life. It represents prosperity, and is the subject of many legends while all major festivals and traditions are guided by the lunar, not solar calendar.  The moon therefore takes center stage in many Vietnamese rituals.
This intangible, celestial thread links to a solid one about being central to all things. The concept of 'being in the center' is one of the bar's two key design elements.  360-degree views circle Hanoi across Hoan Kiem Lake, the Red River and Old Quarter putting one in the middle of everything.  Moonlight Sky bar's bar counter is octagon-shaped, representing the bagua, a sacred feng shui symbol and an important element in Vietnam.  Here, the bar staff are the center of attention within a 'Cheers' bar atmosphere.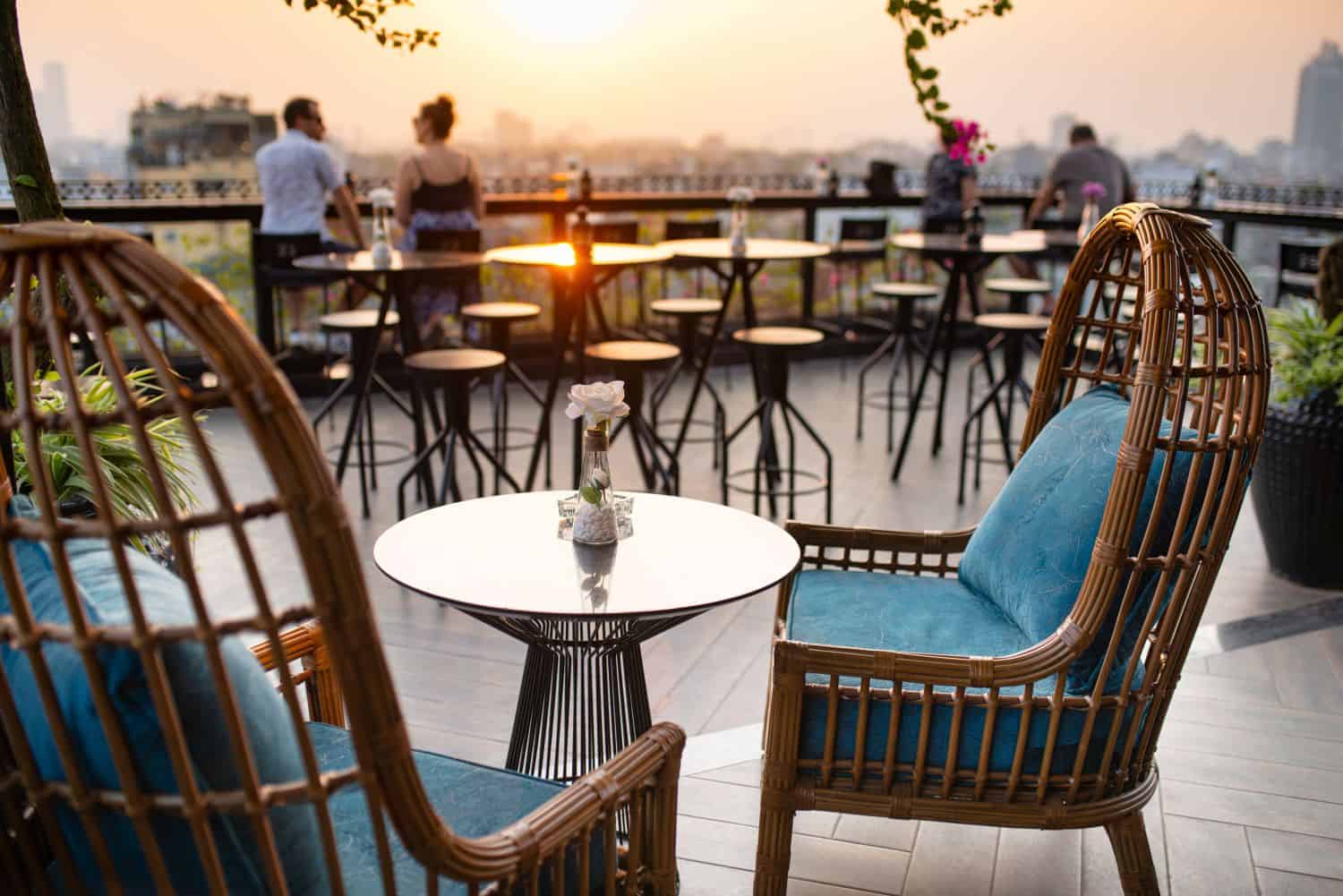 The second design feature links the property's classic French colonial style and heritage with Long Bien Bridge. It is a daringly outstanding visual icon and a major talking point. Long Bien Bridge is clarly seen from Moonlight Sky Bar. Built by the French (1899-1902) it was at the time the first steel structure to span the Red River and was once the largest bridge in French Indochina. Its formidable and imposing iron frame has long been the subject of patriotic songs, poems, literature and an eternal subject for painters and photographers in Vietnam. Now, La Siesta brings the bridge to the bar, the French past to the colonial present.  Walk above the actual bar counter across the mini replica of part of the bridge while looking out to the majestic original. Then, understand the feeling shared by Vietnamese historian Dương Trung Quốc who wrote 'Long Bien Bridge is like the Eiffel tower spanning the Hong [Red] River. It is a beautiful symbol in the hearts and minds of the Vietnamese.'
The combination of these intangible and tangible elements gives spiritual meaning and an iconic status to the name Moonlight Sky Bar and a central design which is all-inclusive.
Moonlight Sky Bar
11th floor, La Siesta Classic Ma May
94 Ma May Street