A dish of rice and chicken may seem a simple combination of common ingredients, but without a doubt Com Ga is one of Hoi An's most authentic, deceptively intricate and most delicious of dishes. It is a favorite delicacy of central and southern Vietnam, existing or two or even three centuries.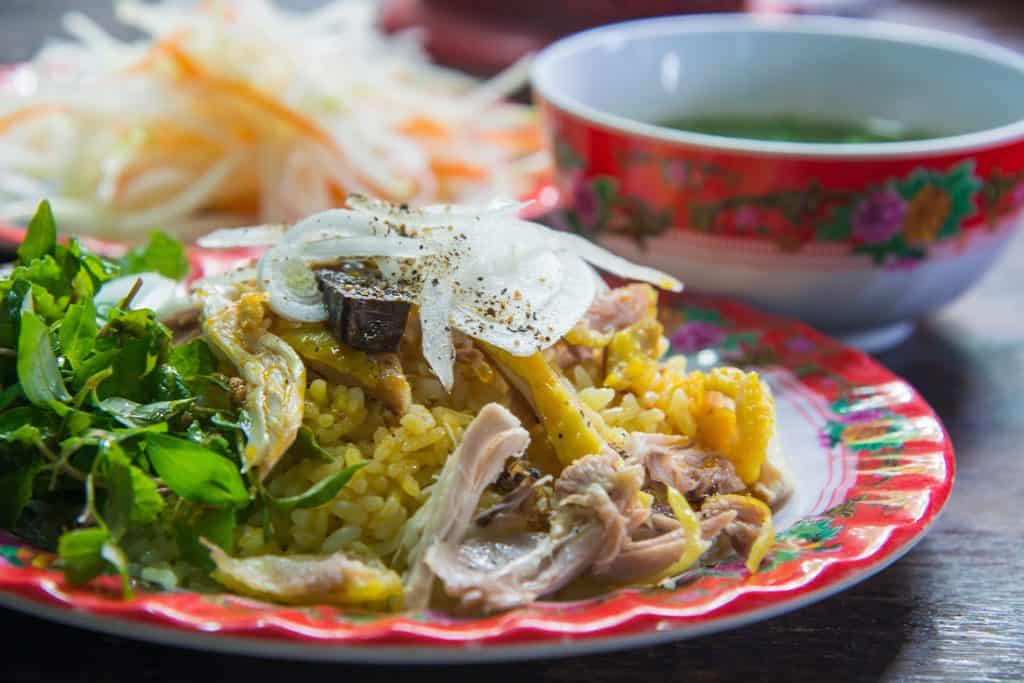 Although, as with many recipes, there are variations, the original dish consists of small pieces of meat torn from a medium-sized local chicken. The meat is boiled just enough to be not too soft or chewy. After cooling, it is mixed with chopped herbs, Vietnamese mint, sliced onions and raw vegetables. This forms a salad, served with saffron rice, which has been cooked, in chicken stock. Typically, the rice should have a light yellow color with a slightly dry texture. The dish is finished off with a bowl of chili, Vietnamese pickles and nuoc mam cham (fish dipping sauce). This adds a sweet and sour, salty and spicy element, while some of the broth made with the chicken stock is poured over the dish.
Com Ga is a simple dish calling to mind an era when food was understated and plainer than nowadays.
The original version of Com Ga emanated from Hainan Island, China's most southerly province. One of the first variations on this dish to spring up in Hoi An was Com Ga Tam Ky. Tam Ky (meaning three flags), established in 1906 under the Nguyen Dynasty,  is the capital city of Quang Nam Province.
The reason why this rice & chicken dish became a popular specialty in Hoi An can be traced back to the town's development.  As Hoi An flourished in the early 17th Century under the patronage of the Nguyen Lords, it became an important East Sea trading port. A century later, the town rose to prominence as Chinese and Japanese merchants considered it the best destination to conduct business.  A large cosmopolitan population grew as it became home to thousands of Chinese, Arabs, Japanese and Dutch, who brought their cuisine with them.
Tam Ky is close to Hoi An just 40km south and like Hoi An it was populated by Chinese. Hainanese chicken rice would have been popular at the time and presumably one of the dishes that the Chinese brought with them as they settled in the Quang Nam region. However, there is a feeling amongst the locals that Com Ga, as enjoyed in Hoi An, is 100% Hoi An and not influenced by Chinese ancestors.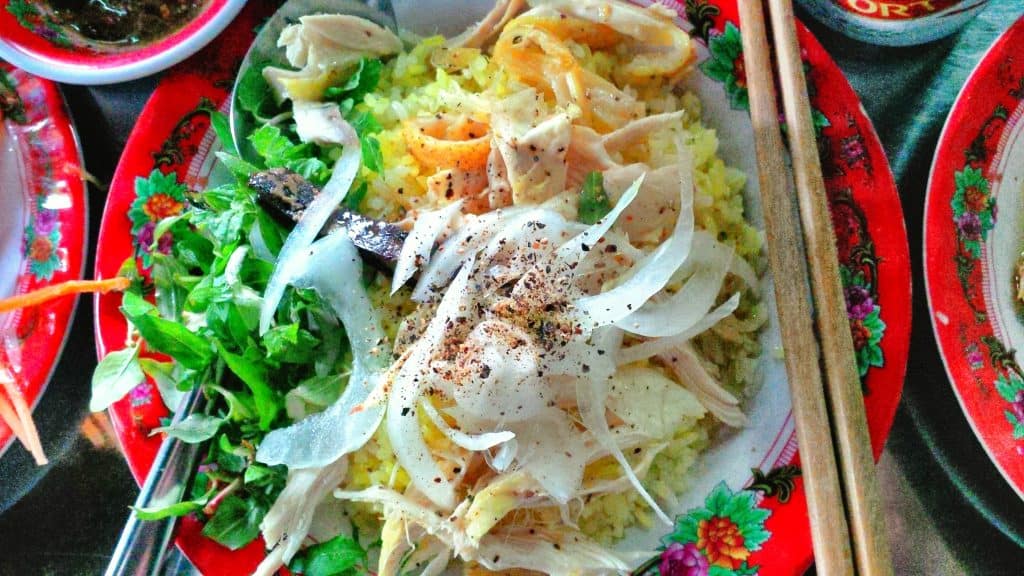 Irrespective of who is right or wrong about the origins, nowadays numerous Com Ga eateries abound in Hoi An, each with its own variations and secret recipes. These chicken rice restaurants are called Com Ga plus the name of the owner or location, which distinguishes one from the other. For example: Com Ga Ba Ty, Com Ga Hoang, Com Ga Ba Nga … and so on.
To enjoy the modern day dish at its best you should make your way to a small restaurant uniquely located in an old house, with a sign proclaiming 'Com Ga Ba Buoi', at 22 Phan Cu Trinh Street in the old town.  This is considered by many to be one of the most famous places in Hoi An to enjoy Com Ga.  The same family, now into the third generation, has been running this restaurant since the 1950s, having previously sold the dish in the market place. The business was started by the grandmother, and now run by her grandchildren. As mentioned, the restaurant is small and extremely popular with both locals and visitors so be prepared for quite a long wait due to limited space. However, the resulting experience is worth it.  Once inside you will be able to watch the Com Ca Ba Buoi being made incorporating a variety of fresh local ingredients. The restaurant also specializes in a soup (a secret family recipe) enjoyed with the rice and a spicy chili dipping sauce. It is highly likely you will ask for a second helping!
22 Phan Chu Trinh Street
Hoi An ancient town
11:00-21:00 open daily