At just 32 years of age, Manh is Executive Chef of Red Bean restaurants. We talk to him about what motivates him, his vision for Red Bean and why Elegance Hospitality Group's signature restaurant operation is a special place to dine.
Born into a farming family in Ha Tay province on the outskirts of Hanoi, Manh followed his siblings into the hospitality industry. At 18 years old, he enrolled in Hanoi Tourism College to study food and beverage. Here he developed the confidence and a passion to become a chef.  His desire to introduce diners to the very best of Vietnamese cuisine drives this quietly gentle and very humble young man.
What inspired you to become a Chef?
Like many Vietnamese, my mum taught me the basics of Vietnamese cooking.   Later on, my brother working at the Daewoo Hotel introduced me to restaurant life.  However, I was 20 years old when everything fell into place. At college, my teachers and I realized I had a natural ability to become a Chef. With their support and mentoring, I gained confidence and the belief in myself.
How did you eventually become Executive Chef at EHG?
After graduating, I trained under Executive Sous Chef Nguyen Huu Phuoc at the Sheraton Hotel for two years. This was followed by a stint as Commis Chef at the Hilton Hanoi Opera Hotel before joining the Asia Group as Chef de Partie at the Silk Path Hotel.  A great opportunity then presented itself in the role of Executive Chef at Noi Bai airport. After 4 years there and following a creatively fun and challenging interview with EHG, I am proud to be the Executive Chef of Red Bean restaurants in Hanoi.
Why do you like working at Red Bean and EHG?
EHG maintains an exceptionally high level of quality in all areas and a superior service.  Moreover, the design and ambience are equally important – each Red Bean restaurant is beautifully designed. I also love the story behind the Red Bean name, and my freedom to experiment with menus.
What makes Red Bean different to other restaurants in the same category?
Apart from high quality and standards, at Red Bean we really do create authentic Vietnamese food.  Many restaurants adapt their dishes to suit the taste palates of visitors, but at Red Bean, we do not do this. We stay true to the values and traditions of our nation's food and respect the requirements of each dish.  At Red Bean restaurants in Hanoi, we follow the northern way of cooking and compromise on nothing.
What is Red Bean's signature dish?
The menus vary between branches and each has its own signature dishes. These include Flame Wok Fried Beef, Pomelo Salad dishes and Panna Mango sticky rice at Red Bean Central. At Red Bean Classic, the leading dishes are mushroom soup, Cha Ca and passion fruit ice cream, while Red Bean Trendy features Beef in Coconut, Hanoi Grilled Fish and Chicken Lemongrass.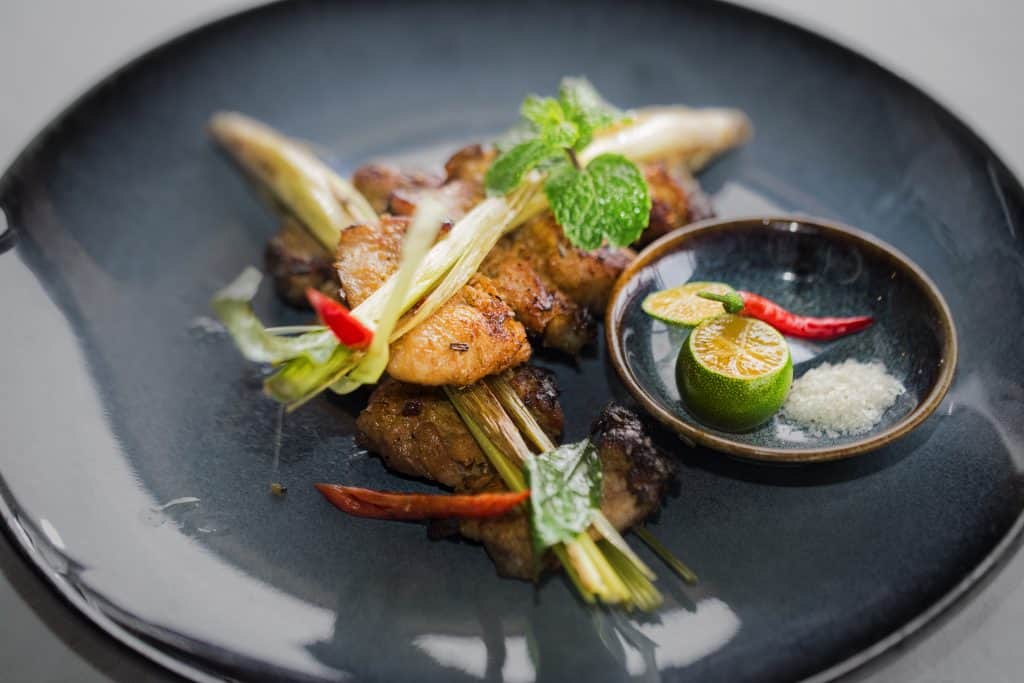 What process do you follow when planning the Tet Lunar New Year menus?
At Red Bean, our aim is to introduce diners to the very best selection of traditional Tet foods.  Some dishes appear only at Lunar New Year while others are more common during this period. At Red Bean Central, I prefer to welcome diners with Banh Tet. This is a round shaped version of the square Banh Chung. Ingredients include sticky rice, mung beans, pork rolled in a banana leaf into a cylinder shape.  After removing the leaf, the cake is sliced into round pieces, like mini versions of the circular plate on which it is served.  Following Tet traditions and being in the north, we decorate Red Bean restaurants with peach blossom and kumquat trees.
On behalf my team we welcome everyone to celebrate Tet in style.