We have a special surprise for all the ladies out here on the occasion of Vietnamese Women's Day on 20th October!
Treat your woman to a romantic outing with a hearty day!
Let's celebrate Vietnamese Women's Day at every restaurant and bar with our special offers!
It is not valid in conjunction with other promotions, vouchers, and discount cards.
Price at 900,000VND ++/ pax including a glass of rose wine
A complimentary of red rose for all ladies
Red Bean Cau Go, 7th floor
Twilight Sky Bar, 8th & 9th floors – La Siesta Premium Cau Go
Add: 1 Cau Go Str., Hoan Kiem Dist., Hanoi – Tel: (84-24) 3938 0963, Ext 705
A complimentary of "Diamonds in the Sky" cocktail for all ladies if booking in advance
Happy hour all day for Special cocktail list for ladies at Diamond Sky Bar
Live music with international guest singers from 20:00 to 22:00 at Diamond Sky Bar
The Gourmet Corner Restaurant & Diamond Sky Bar
12th floor, La Siesta Classic Lo Su Hotel
Add: 32 Lo Su Str., Hoan Kiem Dist., Hanoi
Tel: +84 (0) 944 164 132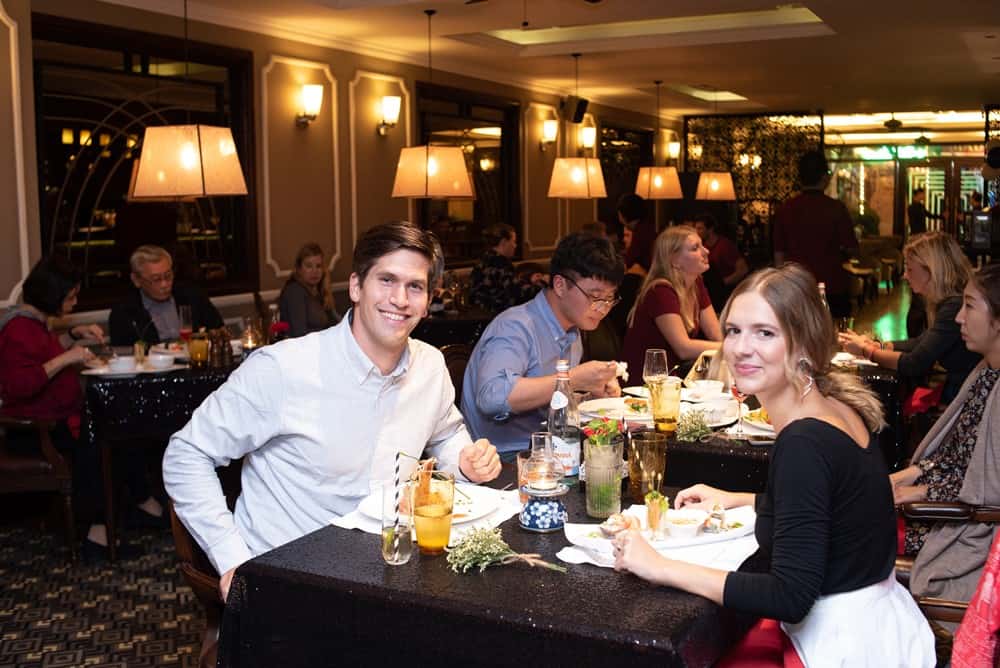 Special set menu, price at VND550.000++/set including a 5-course menu
(Discount 25% for wine bottle pairing with this set)
A complimentary of wine cocktail for all ladies
Red Bean Ma May restaurant
Ground floor, La Siesta Classic Ma May Hotel
Add: 94 Ma May Str., Hoan Kiem Dist., Hanoi
Tel: (+84-24) 3926 3641, Ext 8105
A complimentary of rose wine (Ruffion Rosatello Rosato)
or sparkling wine (Luna Sparkling) for all fresh lobster orders
A complimentary of 02 ly house wine for ordering WESTERN SET MENU
or SPECIAL CHEF'S SET MENU
A complimentary of 01 glass/pax Signature Cocktails for all ladies if booking in advance
Discount 10% on Trendy street food buffet lunch for all ladies
Red Bean Trendy restaurant
8th floor, La Siesta Trendy Hotel
Add: 12 Nguyen Quang Bich Str., Hoan Kiem Dist., Hanoi
Tel: (+84-24) 3923 4026
Special Western Set menu
Price at 750.000++ per person
Free 01 bottle wine of the month for any booking of at least 02 set menu  before 18.10.2019
Cloud Nine restaurant & Lighthouse Sky Bar
9,10 floor – La Siesta Premium Hang Be Hotel
Add: 27 Hang Be Str., Hoan Kiem Dist., Hanoi
Tel: (84-24) 3929 0011