Hoi An has several local delicacies which are available at small street food stalls and restaurants throughout the town.
There are a few items that will usually be on every menu: some popular favourites include the delicate white rose, a dumpling made of shrimp wrapped in steamed rice paper, and the deep fried wonton (filled with pork, seafood, or beef and topped with a tomato and vegetable sauce).
Mi quang is a regional delicacy made of thick noodles served in a few teaspoons of broth with shrimp, quail's eggs, herbs, vegetables, and sometimes peanuts.
Its sister dish cao lau (found only in Hoi An) is made with slightly thinner noodles in a salty broth, topped with greens, sliced pork, fried pork rind, and other goodies. These extra toppings include rice crackers, peanuts, and scallions. The dish is often served with lime and chilli paste.
There are many legends about the origin of cao lau and its unique taste. Some say that the broth and noodles are mixed with the ash of a tree that was originally taken from the Cham Islands, and is only known to a handful of families in Hoi An. Others say that the dish is made with water from a well dating from the time of the Cham people, located outside of town.
Thit nuong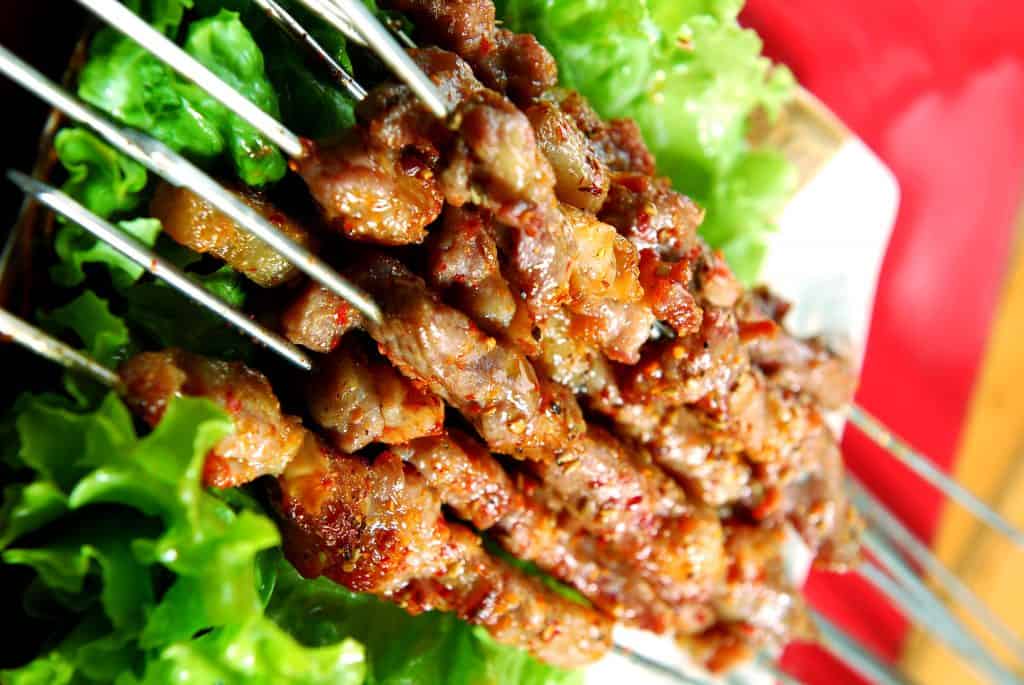 In addition to these mouth-watering dishes, satay-style pork thit nuong is another must-try delicacy.
Sometimes served with thin vermicelli noodles and chilli, eaten with banana flour and herbs such as mint and coriander, it is also served as a skewer-cum-spring-roll, with rice paper, greens, and a spicy peanut sauce.
Usually costing less than 2 USD, it is a delicious, cheap treat.
Banh xeo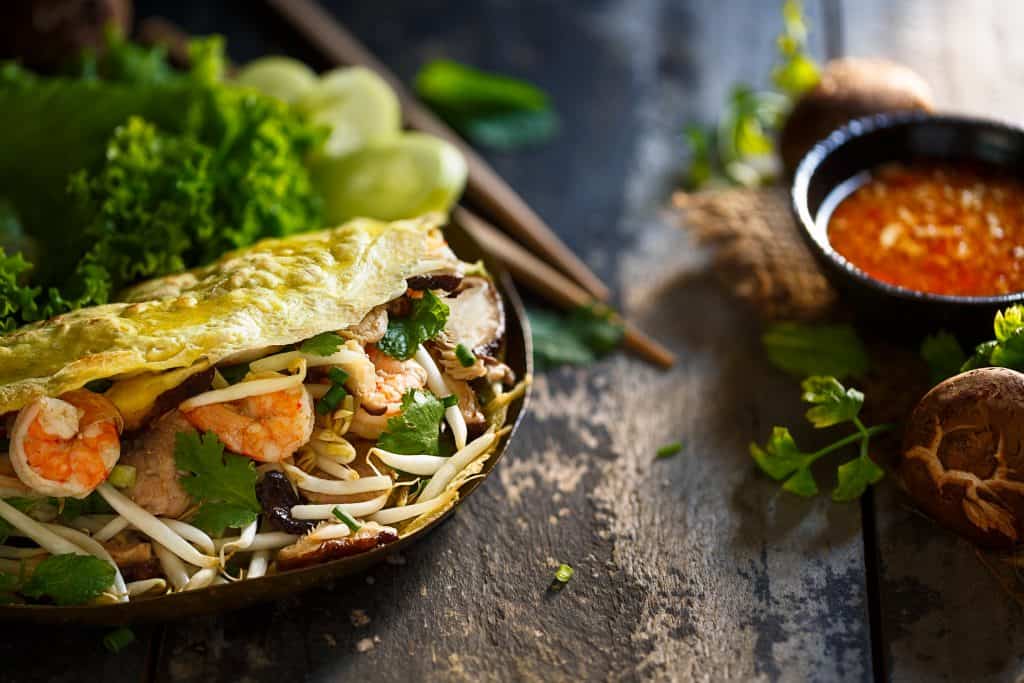 Another common dish is the tasty banh xeo, or rice pancake. It consists of a piping hot pancake, mixed with egg and filled with shrimp and sprouts, as well as a tasty medley of herbs and vegetables such as coriander, mint, cucumber, and lettuce.
Rolled in crispy rice paper and dipped in a peanut satay sauce, it is one of the best dishes in central and south Vietnam. Add some chilli for extra kick.
The humble banh mi
Many illustrious chefs and writers have praised this delicious, low cost staple, which costs less than 1 USD. The light, fluffy baguette comes with a variety of fillings, but the usual banh mi in Hoi An will consist of pâté, shredded carrot, green papaya, coriander, and mint. Some other additions might be spring onion, peppercorns, and roasted onion or garlic.
Barbeque pork is one of the most popular fillings, although egg, chicken, and a variety of other ingredients are available. So try one today, with a smooth, sweet Vietnamese coffee.
Check out the menu at the resort's Red Bean restaurant, specializing in Vietnamese favourites, for some of these local delights.
Happy eating!