Savor the delights of Red Bean's authentic Vietnamese BBQ dinner. This special culinary highlight, held very Saturday evening in our beautiful courtyard, is a delicious dining experience for all our guests.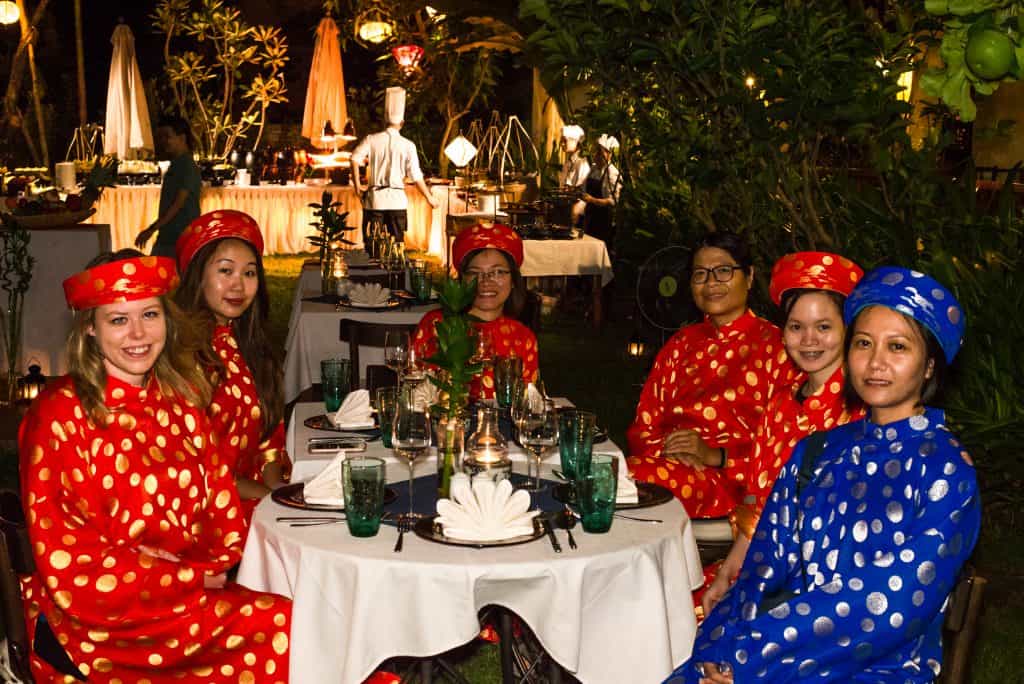 Mouthwatering fresh items feature the very best ingredients carefully selected from local markets and farms. Enjoy many of Vietnam's signature recipes, Hoi An specialties and national dishes – steamed, wok fried, deep-fried to sautéed, barbecued or pan-fried. An extensive array of seafood and shellfish, succulent cuts of meat, fresh vegetables, salads and herbs, create flavorsome dishes, bursting with delicious aromas and intense colors. A choice of international wines, signature cocktails, beers, spirits and non-alcoholic beverages compliment the menu.
Red Bean's evening BBQ is exquisitely designed, dishes impeccably presented in traditional style while the evening is accompanied by traditional Vietnamese music. Warm soft illumination from table lamps, ground lighting and glows from surrounding trees and the garden enhance the romantic atmosphere. Delight in the occasion even further by dressing for dinner in your very own áo dài. This is Vietnam's traditional royal costume, which still takes pride of place in formal and traditional occasions.
Unlimited Red Bean BBQ
Every Saturday evening from 19:00hrs
Red Bean Courtyard, West Wing
$39 USD/ guest (including traditional music, Ao Dai costume, excluding beverages)