One of the main attractions of Hoi An is the opportunity to experience lush, rich greenery and nature so close to the bustling hub of the old town.
Bay Mau coconut forest is a popular tourist destination only a few kilometres from the old town, perfect for those seeking a chance to explore the water and the Nipa palm forest.
Like many areas in the country, it was also a place of importance during the Vietnam War. It was a safe haven for reserve forces, affording a safe place from which they could make sorties into Hoi An proper.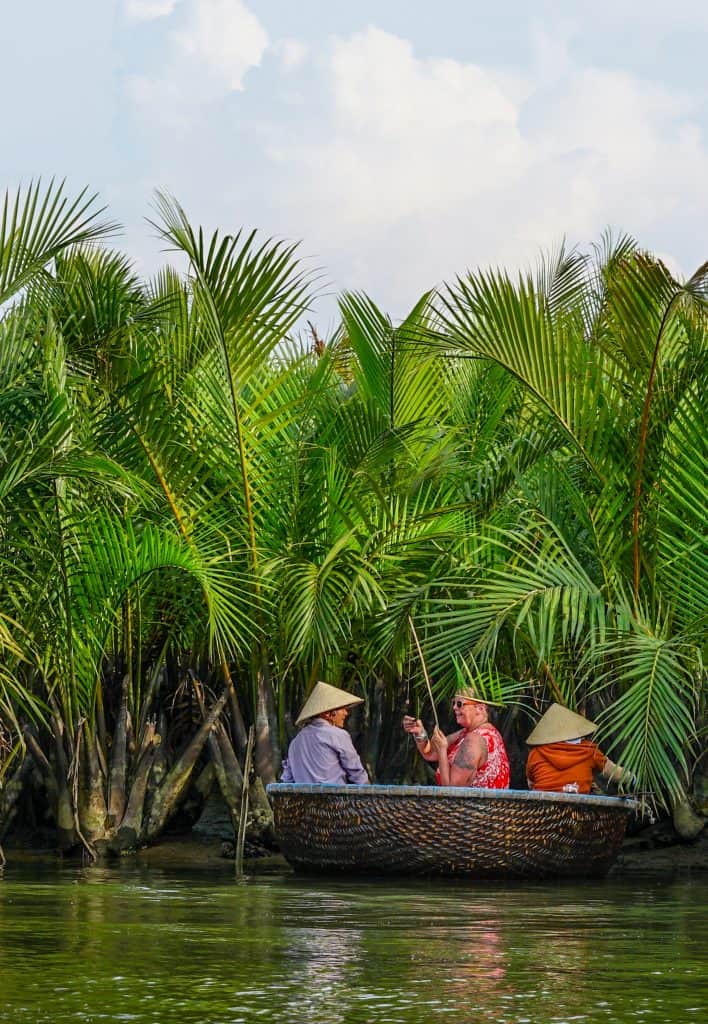 Located in Cam Thanh village, the craft village features houses made from coconut leaves. Originally, there were 7,000 square meters of free-growing coconut forest. Situated near a mangrove estuary, it is a unique salt marsh ecological area with a submerged forest ecosystem.
It is home to many species of shrimp, crab, and molluscs. The salt marsh acts as a filter system, gathering waste in the water source before it flows to the beach.
Local families run the tours in the area, providing a sustainable, affordable eco-tour and supporting the local economy. Visitors are escorted through palm-covered passages in traditional woven round basket boats, which many fishermen in Hoi An still use today.
They will learn about the daily life of local farmers and fishermen and participate in traditional activities, such as a boat race, throwing a net, and enjoying freshly-caught seafood. Travellers who wish to see the area but stay off the water can also rent a motorbike (5 USD or less) or request a complimentary bicycle from reception and scoot through the towering coconut forest.
Ask at reception for information regarding this beautiful natural wonder.