HANOI AND HOI AN IN AUTUMN ARE FULL OF COLOR, FEELINGS AND MEMORIES
Visiting Vietnam during the autumn months makes for a special experience whether you are in Hanoi or Hoi An. Both areas have different autumn faces and moods but are equally beautiful, making this an exceptional season.
Ask any Hanoian which is their favorite season and most will say it's the autumn. The summer heat fades replaced by more comfortable temperatures and cool breezes. Hanoi's autumn is famous for green sticky rice, the special evening scent of milk flowers (hoa sua – a symbol of Hanoi) and for its typical yellow daisy. Trees turn the red, golden yellow, oranges bathing the city in a romantic blanket of autumn colors. It is also considered the season of romance, of literature, and of memories past. Perhaps this is why autumn is regarded as the best season, often the subject of many paintings, music and poetry. The song Missing Hanoi's Autumn (Nho Mua Thu Ha Noi) written by Tinh Cong Son (19392001), one of Vietnam's greatest poets and musicians, evokes the feelings this season conjures up. He wrote about Hanoi's autumn and its lingering fragrance of milk flowers and young green rice …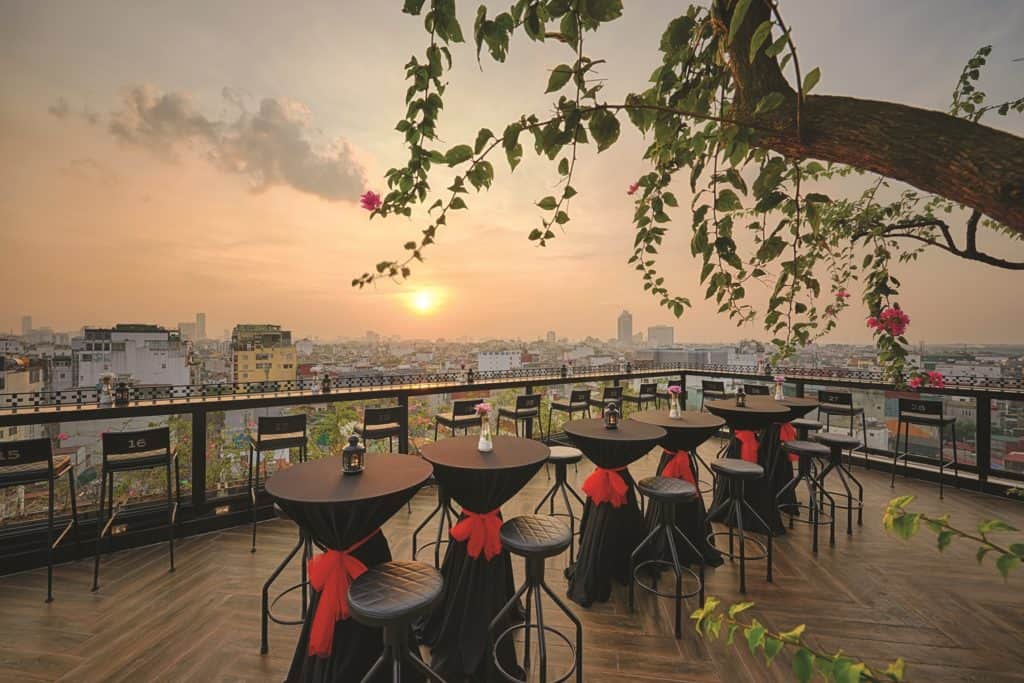 "The scent of milk flowers in the wind
Green rice scent in your little hands
Leave a fragrance in your footsteps"
Some of the most atmospheric venues from where to admire Hanoi's beautiful autumn days and nights are our three sky bars. The Twilight, Diamond and Lighthouse Sky Bars form a trio Hanoi's best rooftop bars. Each with its own personality, they are beautifully cool places for an autumn drink against the city's incredible skyline. Alternatively, dine on sublime cuisine with equally stunning views at Red Bean Cau Go, Red Bean Nguyen Quang Bich and Cloud Nine at La Siesta Hang Be. Our restaurants and bars match the beauty of Hanoi in autumn.
This is the transition time from the dry to rainy seasons in Hoi An. The weather starts cooling down in September and despite the risk of rain autumn is a fascinating time to be in Hoi An. This charming town was voted the 'Best City in the World' in the 2019 Travel & Leisure World's Best Awards, honored for its relaxed atmosphere, great shopping, vibrant energy and some of the best street food. A must-see experience in Hoi An is the town's monthly lantern festival, celebrated on the 14th day of each lunar month when the moon is at its fullest and brightest. This autumn it takes place on 12 September and 12 October. Candles placed in the bottom of colorful paper lanterns are floated on the Thu Bon river to worship the ancestors and the God of the land, which create a truly colorful spectacle.
La Siesta Resort provides the perfect setting for autumn. Our design is an expression of the old town's architectural heritage, a powerful reflection of Hoi An's unique blend of influences, style and colors, our service a reflection of true Hoi An hospitality. Dine on international cuisine at the Temple or authentic Quang Nam dishes in Red Bean. Relax with an early evening drink around the pools as the sun sets on Hoi An old town and the resort. While the ancient town is bathed in a myriad of colored lights, the glow of our lanterns dotted around the gardens cast their warm spell over our resort welcoming the autumn nights.