THE INSPIRATION BEHIND ONE OF EHG'S MOST ELEGANT OF ELEGANT HOTELS
20 years ago Do Van Dan and his team of five were running just one 10 room basic mini hotel. The property was small but dreams of success were big. Fast forward where today EHG's luxury La Siesta hotel brand is famed as a trendsetter in Hanoi's hospitality industry. Every staff member has contributed to EHG's success; in particular, a trio with nearly 10 years' working partnership setting up eight hotels including a resort.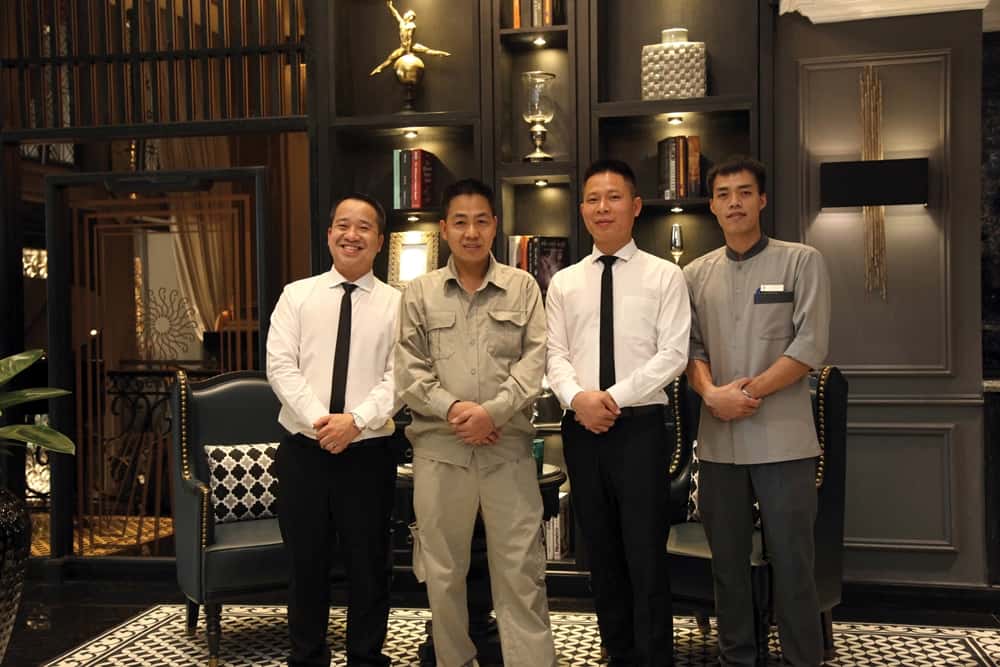 Meet: Pham Trung Dung, Ha Van Hai, Dao Van Van and Nguyen Van Luc who are responsible for the group's latest hotel: La Siesta Premium Hang Be.
Before joining EHG as GM of Elegance Ruby in 2010, Dung became familiar with the Company through his nine years spent as an English speaking tour guide. Now GM of both La Siesta Classic Ma May and La Siesta Premium Hang Be, he is also the hotel construction project leader. Hai, a builder by trade, was part of the Elegance 2 hotel building operation in 2006. He so impressed the management team that he was hired as full time IT & maintenance staff. Now, as Head of Engineering & IT he spearheads hotel technical construction. Of the three, Van is the longest serving. He started as a housekeeper and immediately demonstrated great potential and quality management skills. He runs EHG's housekeeping department overseeing every single guestroom detail, housekeeping staff recruitment and training. Joining this dream team in their latest venture is Nguyen Van Luc, Executive Assistant to the GM. Being part of La Siesta Premium Hang Be from the start is a good training ground for this future GM, who shows great potential. As Dung points out: "a skilled GM needs to know absolutely everything about their hotel right down to every brick, nut and bolt".
They admit La Siesta Hang Be has been their most challenging hotel project. The building, a former hotel, had a number of design flaws which called for clever creative solutions. The team rose to the challenge with outstanding results. To quote Dung "the guest experience is our priority. We really wanted to create something special".
The team works seamlessly together. They know how one another operates, the expectations and how to create what appears impossible. Most importantly they understand Dan's mind and his vision. Happy and proud to be part of EHG, they aspire to lead the way in the search for perfection.