WE EAT WITH OUR EYES. COLORS, FLAVORS, TEXTURES AND CREATIVE DESIGN TAKE THE DINER ON A JOURNEY THROUGH CUISINE
With four restaurant businesses encompassing a total of six outlets in Hanoi and hence great menu choice, EHG has no shortage of fine dining options. EHG and La Siesta's casual fine dining restaurants of Red Bean, Gourmet Corner, Cloud Nine and Cha Ca Lang offer some of the city's best authentic Vietnamese and fusion cuisine.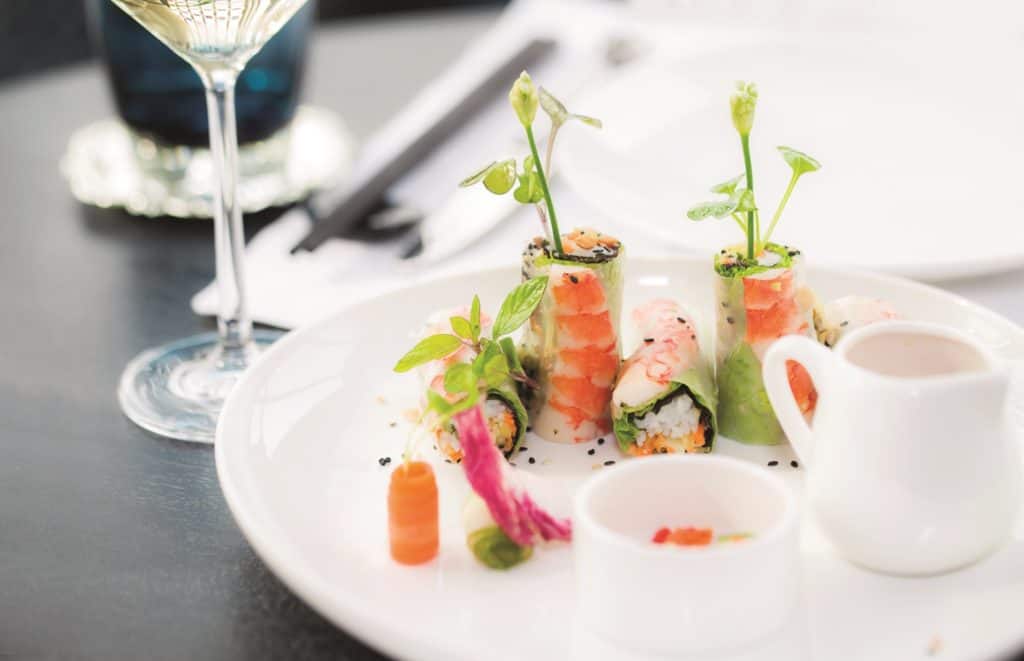 Dishes are elevated to new levels. The art of eating delights all the senses. Many elements are combined to create a love of dining: captivating colors and composition, tantalizing textures and tastes, stimulating aromas and creative design.
It is no wonder we commonly say 'we eat with our eyes'. Exquisite plating of food, artistically designed table settings and beautiful restaurant surroundings beckon the diner on a culinary journey through food.
Try one of Cloud Nine's starters: Hanoi Deep Fried Spring Rolls. These actually originated in southern Vietnam and then become a firm Hanoi favorite. Although nowadays eaten any time of the year spring rolls were originally served on special occasions such as Tet or family gatherings. In the north fried spring rolls are known as Nem Ran and in the south Cha Gio.
Banana flower salad is popular throughout Vietnam. Known as Nom Bap Chuoi in the north and Goi Bap Chuoi in the south this salad unites the rural areas throughout the country. This is a perfect, healthy, cool dish for the hot weather. There are many variations and at Red Bean Cau Go we enhance it with garlic pork jerky to give it that extra kick.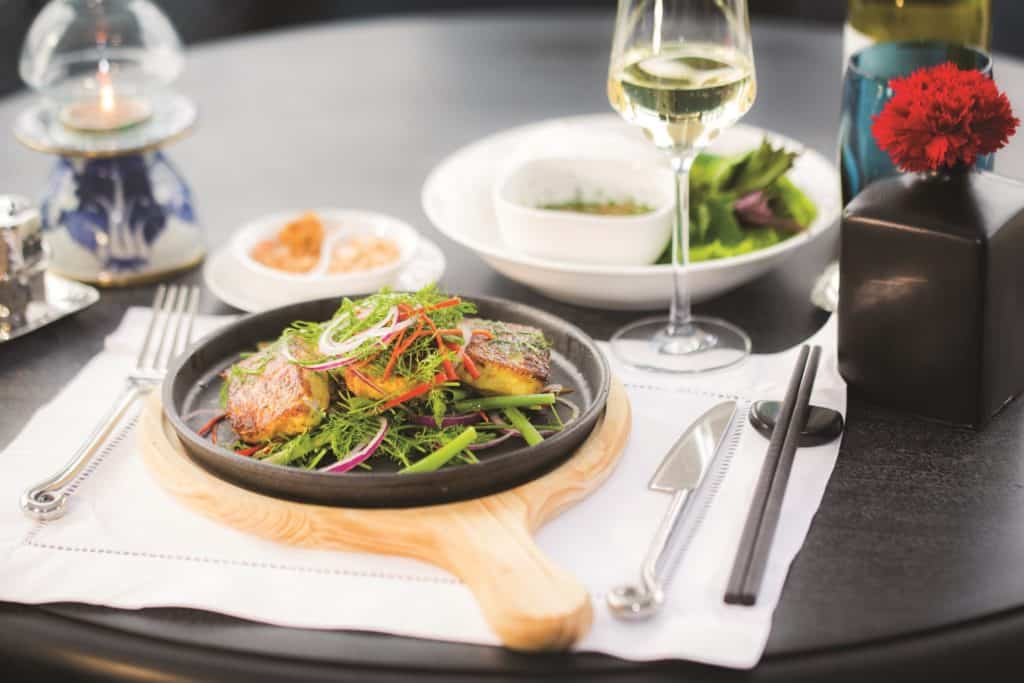 One of Hanoi's most famous dishes is Cha Ca and a favorite on our menus. Red Bean Trendy uses marinated sea bass, paying tribute to Hanoi's 100 year old recipe. It was invented by the Doan family during the French colonial era who lived on Hang Son Street, now Cha Ca Street. The family held secret anti-French resistance meetings and began selling their familyinvented dish to earn more money.
Hanoians have a sweet tooth. They love desserts such as che or rice inspired puddings. Kem Xoi Nep Cam – violet sticky rice, on the menu at the Gourmet Corner has long been one of the nation's favorite summer desserts. Deep shining purple glutinous rice is nicknamed 'forbidden rice' because the ancient Chinese revered purple and black rice; at the time only the emperor was allowed to eat it hence the name. This nutty slightly sweet flavored rice is usually eaten with sour yoghurt; however, at the Gourmet Corner our own version is served with creamy vanilla ice cream.
Take your pick of dishes from our à la carte menus and enjoy the best in Vietnamese food.