WAKE UP
For the energetic amongst us head to the gym for an early morning work-out or yoga.
BREAKFAST A lazy morning with breakfast on your balcony overlooking the pool making the most of your guestroom. Choose from a selection of international dishes or traditional Vietnamese breakfast cuisine.
MID-MORNING TO LUNCH
Always wanted to learn how to cook the Vietnamese way? Then take a Red Bean cooking class. Visit the nearby wet market learning how to bargain for ingredients. Back at the resort don your chef's hat as you prepare your own Vietnamese lunch guided by one of our chefs in Red Bean restaurant.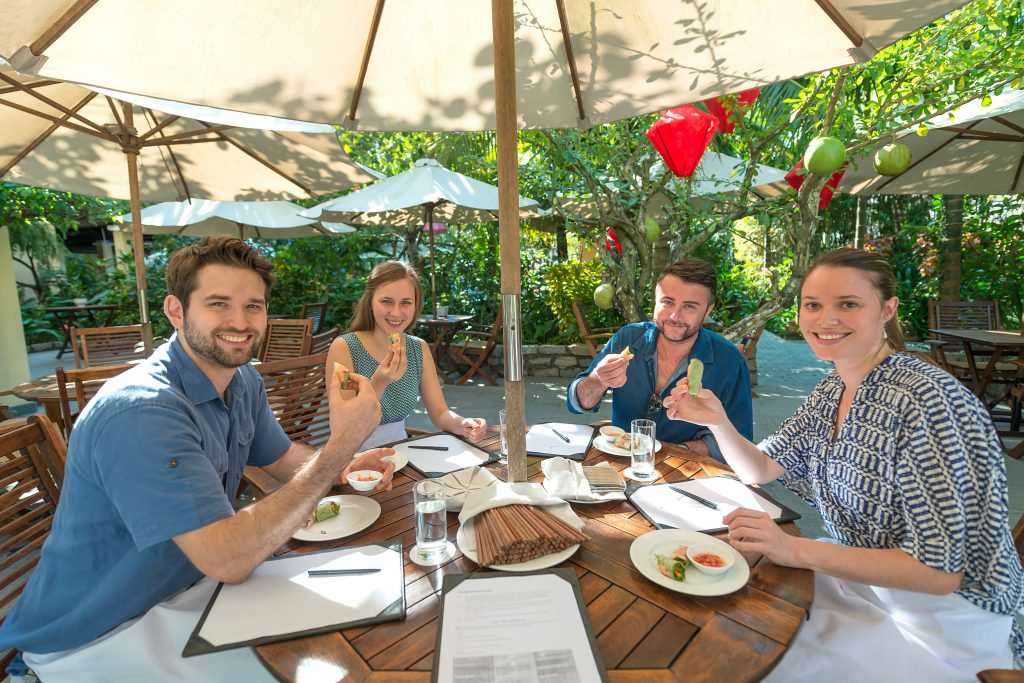 EARLY AFTERNOON
Relax after lunch with a sunbathe or gentle swim in one of the two pools soaking up the resort's atmosphere.
AFTERNOON
Time to pamper the mind, body and soul. Choose from over 30 therapies and treatments at our award winning La Spa housed in garden villas within the tropical gardens.
EARLY EVENING
What better way to spend a late afternoon/early evening than a cocktail demonstration and sampling some classic and signature cocktails created by our talented bar staff. Head back to your guestroom to freshen up before dinner.
DINNER
Dine at the Temple Restaurant & Lounge facing the saltwater pool. Choose from a sublime menu of international and seafood dishes complemented by a bottle of fine wine.
NIGHTCAP
After an evening stroll around the resort's tropical gardens enjoy a nightcap – maybe another cocktail or a premium spirit – before heading back to your guestroom for a blissful night's sleep in your wonderfully comfortable bed.
Recharge the batteries ready for another relaxing day at the resort.